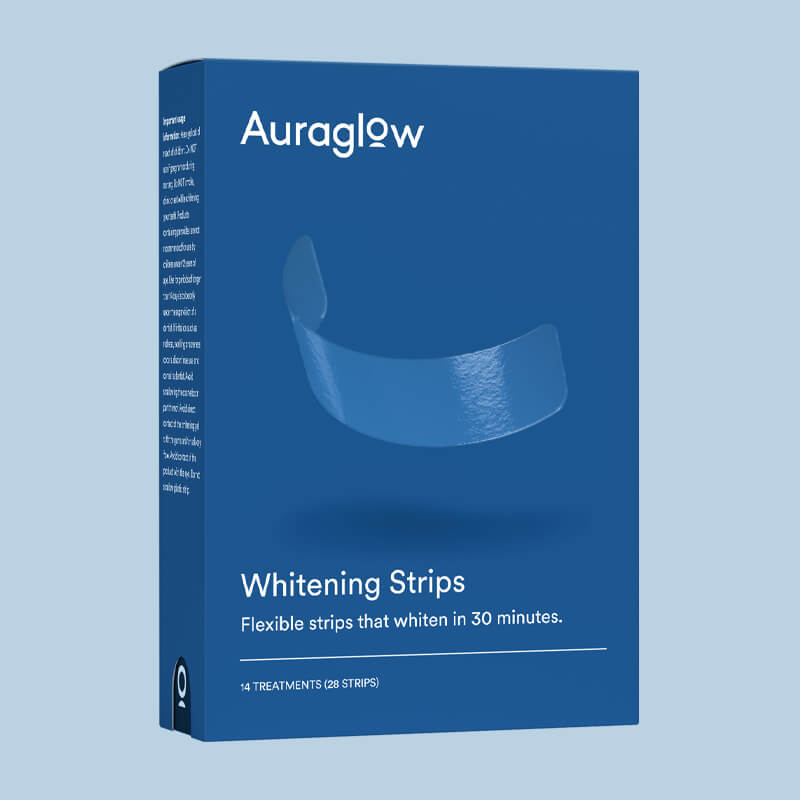 Sale price
$24.99
Regular price
See it in action
373 people are viewing this product
In-stock, ships in 1 business day

5 out of 5

Our whitening strips are designed to wipe away stains without sensitivity or irritation. These strips contain a hydrogen peroxide whitening compound - the same ingredient used by dentists that is proven to whiten the teeth. We've designed these strips unlike any other - they stretch and include a rectangle bottom for easy placement and whitening on the teeth.
✓ Whitens up to 10 shades in 7 days
✓ Includes 14 treatments (28 strips - 1 upper and 1 lower)
✓ Contains 6% hydrogen peroxide whitening agent
✓ Flexible strips that stretch to fit the teeth
✓ Designed to stick without sliding
✓ Safe for enamel, caps, crowns and veneers
✓ Use for 30 minutes per day
14 treatments (28 strips - 1 upper, 1 lower)
If you don't love Auraglow products, send it back within 60 days for a full refund. We'll even cover return shipping. No questions asked. In addition, all products are covered under a 2 year warranty for defects or other manufacturing issues.
"A difference of 12 shades during our teeth whitening test."
"I saw clear results after just one quick use."
"A good option for sensitive teeth."
"One of the most complete options on the market"
"Our testers were shocked by the whitening results."
Awesome!
This was so easy to use and the results are fantastic! Highly recommend this product!
Works fast.
Works well. It's a little running unlike the RX one I had before so I was not confident that it would work but it did.
Exactly as described.
As good as most kits you would get from a dentist
Definitely worth it!!!
Wow it worked so well. After 2 weeks of treatment I can see a big diference. Years of drinking coffee and wine stained my teeth so much wich made very self concious about my smile. Now I can smile with confidence again. I'm still gonna do a few more days to see if I can get it a bit whiter. I'm really happy so much and I highly recommend this product.
Results After One Use!
I've only had a chance to use it once but already I see results. I used it with the light as well and there's definitely a noticeable difference. I'm looking forward to seeing my teeth after the rest of the treatments!
Works really well. The first application was a dramatic difference in lightness.
Make sure you apply evenly.
Easy to use and works great
I whitened every day for 2 weeks along with the whitening accelerator and my teeth are many shades whiter! I'll never go back to ordinary whitening strips again!
Amazing product
Very happy with this purchase. It comes with a bamboo tooth brush so you don't have to use your own. Already seeing results.
It works !
This is the first time I've tried a whitening system ! I can definitely see a difference in the appearance of my teeth and will continue to use this product.
Five Stars
It really made a difference on my teeth
60 Day Money-Back Guarantee
If you don't love Auraglow products, send it back within 60 days for a full refund. We'll even cover return shipping.