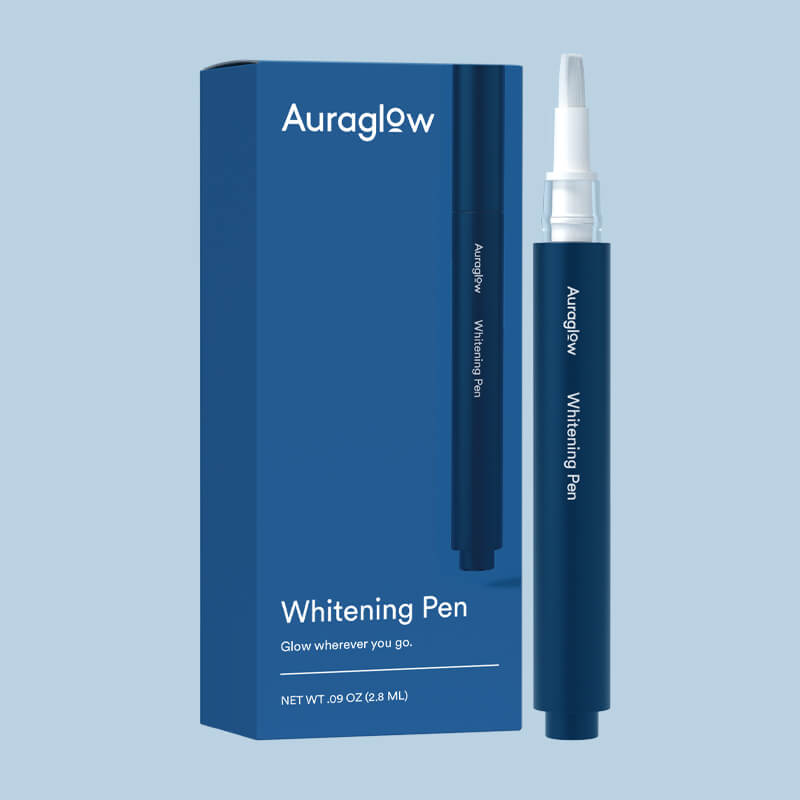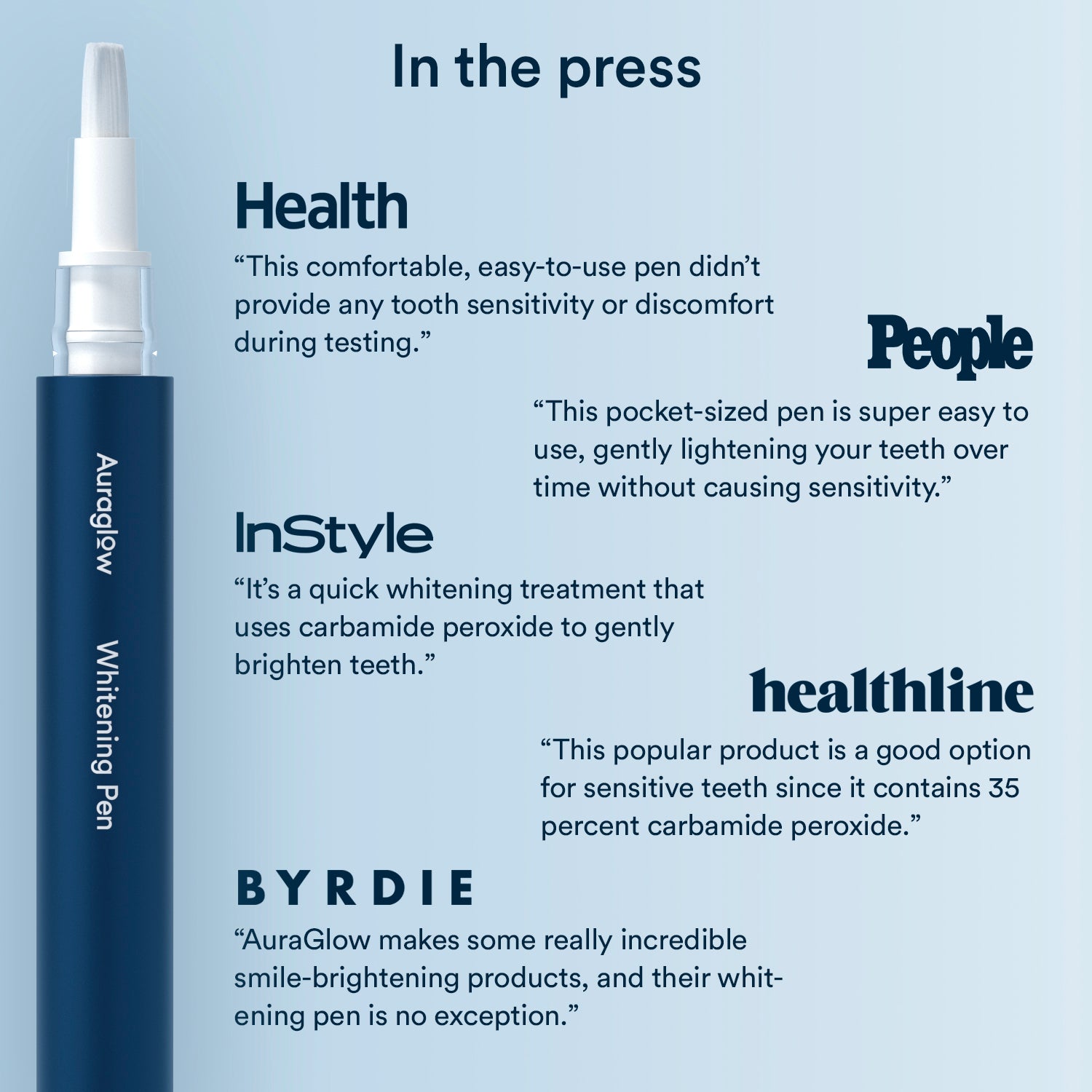 Auraglow Teeth Whitening Pen
Sale price
$22.00
Regular price
See it in action
In-stock, ships in 1 business day

5 out of 5

Our compact and portable whitening pen lets you whiten your teeth at home or on the move. Simply click the bottom of the pen to dispense gel onto the brush, then paint onto each tooth to whiten. This pen is a great way to maintain your whitening results or whiten those hard to reach teeth quickly.
✓ Whitens up to 10 shades
✓ Remove tooth stains from coffee, wine, soda, tea, smoking and more
✓ 20 treatments when used as directed
✓ Use 1-2 times per day for best results
✓ Great for maintenance or touch up whitening
✓ Causes no sensitivity, pain or irritation
✓ Safe for enamel, caps, crowns and veneers
✓ 35% carbamide peroxide whitening gel made in the USA
1 teeth whitening pen (2.8ml)
If you don't love Auraglow products, send it back within 60 days for a full refund. We'll even cover return shipping. No questions asked. In addition, all products are covered under a 2 year warranty for defects or other manufacturing issues.
"A difference of 12 shades during our teeth whitening test."
"I saw clear results after just one quick use."
"A good option for sensitive teeth."
"One of the most complete options on the market"
"Our testers were shocked by the whitening results."
Auraglow is the absolute best ever.
Love Auraglow. The only whitener I will ever use. Thank you,
Finally, teeth whitening made easy
I could tell a difference within minutes after the first use. This is how it should be. So simple to use. Has not caused irritation or discomfort at all like some that I've had to stop using in the past. I'm very happy with this product.
Affordable Wedding Teeth Whitening
I used the whitening pen in the weeks before my wedding and it worked great! I felt like I could see results after the first time I used it. I have sensitive teeth, and wanted a product that wouldn't leave my gums feeling sore. This product was perfect for me needs!
Very easy to Use!
I just bought this and started using it. Very easy to use and although it is early, it seems to be working well!
Convenient white anytime!
Purchased this for teeth whitening maintenance. So happy that it's so convenient and the reviews were great. Look forward to keeping my smile white without the stress or mess.
Doesn't make teeth sensitive!
So far this product seems good, my teeth aren't sensitive and they look whiter than when I started, I took a before picture so it'll be interesting to see how much whiter they get once I finish the tube.
It works!
this is first time to use teeth whiting pen, it's painless and easy to use. I did see different after I used it!
Teeth whitening pen questions
1. Click the bottom of the pen a few times until gel appears on the brush tip.
2. Smile wide for one minute, brushing a small amount of gel onto every part of your smile.
3. After 60 seconds, relax. The gel will dissolve on its own.
4. Repeat 1-2 times a day for best results.
Includes 1 whitening pen, 2.8ml
Our whitening gel is made in the USA with dental-grade whitening ingredients:
Glycerin, Urea Peroxide, Propylene Glycol, Xylitol, Carbomer, Mentha Piperita Oil, Triethanolamine, Aqua,
(35% carbamide peroxide)
Depending on your starting shade, most customers see results after their first treatment, or after a few uses daily. For best results, we recommend using the teeth whitening pen 1-2 times per day for at least 7 days.
Yes, our products are safe when used as directed. In some cases, a small percentage of people may feel sensitivity or irritation with whitening products in general. In a clinical study of our whitening gel, participants felt no irritation or sensitivity.
Our whitening products will not whiten veneers or dental restorations. Our products work best on natural teeth. We do not recommend whitening with braces as the results can be uneven.
60 Day Money-Back Guarantee
If you don't love Auraglow products, send it back within 60 days for a full refund. We'll even cover return shipping.