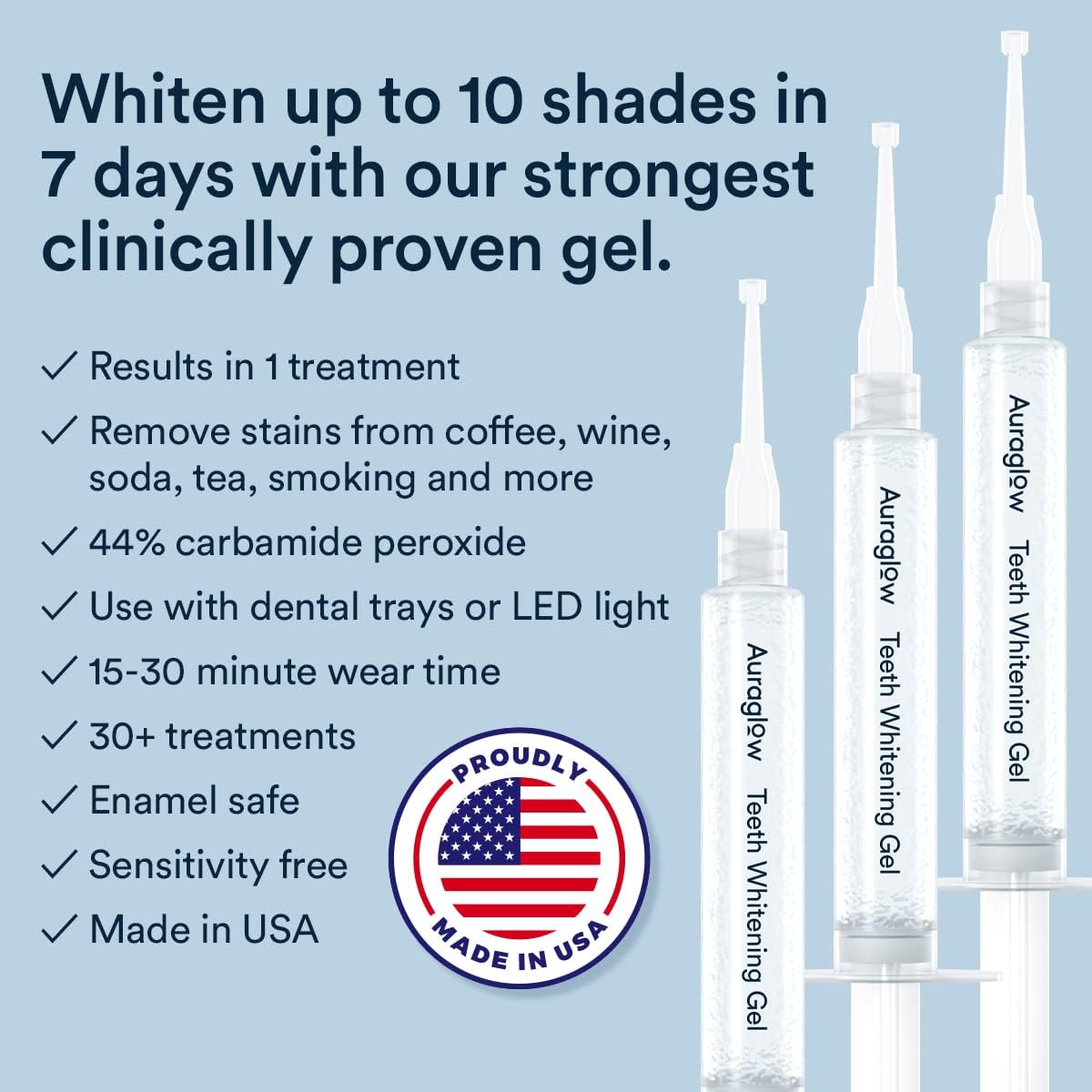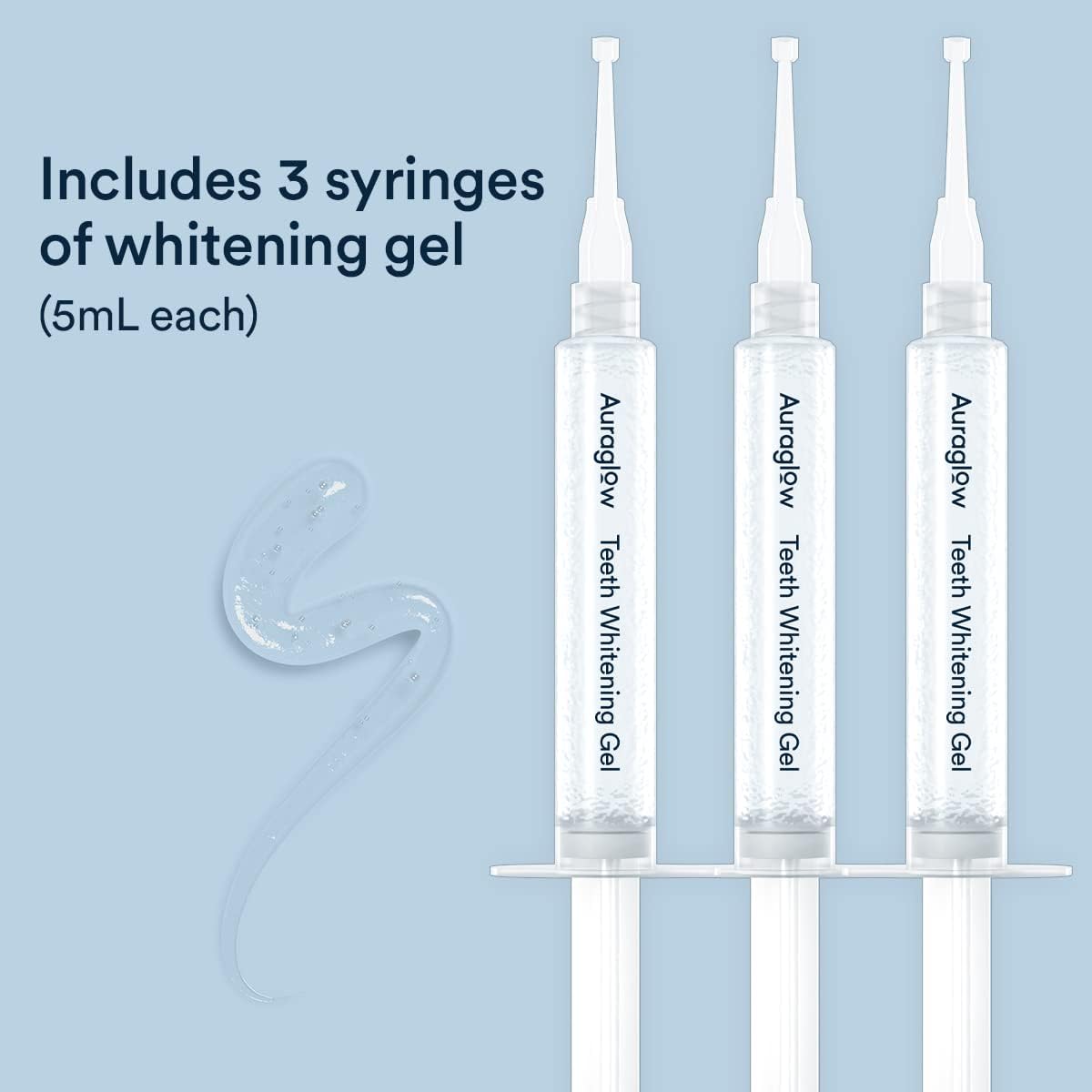 Sale price
$35.00
Regular price
667 people are viewing this product
In-stock, ships in 1 business day

5 out of 5

Our extra strength 44% carbamide peroxide teeth whitening gel is for those who are looking for a whitening boost from our standard 35% carbamide peroxide gel. The 44% gel uses a stronger formula to wipe away deep tooth stains or stubborn stains that won't go away. Must be used with a dental whitening tray or LED light (not included).
✓ Best for those who have experience whitening and need a strong boost
✓ Results in as little as 1 treatment
✓ Clinically proven whitening gel
✓ Sensitivity free
✓ Enamel safe
✓ 44% carbamide peroxide strength
✓ 30 treatments when used as directed
✓ Same ingredients used by dental professionals
✓ Perfect for those looking to remove years of heavy stains
3 x 5ml whitening gel syringes (30 treatments)
If you don't love Auraglow products, send it back within 60 days for a full refund. We'll even cover return shipping. No questions asked. In addition, all products are covered under a 2 year warranty for defects or other manufacturing issues.
"A difference of 12 shades during our teeth whitening test."
"I saw clear results after just one quick use."
"A good option for sensitive teeth."
"One of the most complete options on the market"
"Our testers were shocked by the whitening results."
Awesome
I have been using product for 10 days. I can definitely see a difference
Great deal!!
The product is great :+1: also the price is very affordable....and this does work!!...thanks again will reorder soon.
Well worth the purchase.
I started using this item approximately a year ago. I started seeing results on the 4th day and drastic results in the 10th day of usage. I used sensodyne tooth paste so I'm not sure if using this product alone causes sensitivity but I did not get any at all and I used the product for 14 consecutive days. I now use this product as maintenance.
Worth the buy
Effective and painless. Whitened my teeth and didn't make them sensitive.
Five Stars
As advertised! Noticeable difference in a week!
love this!
i love this so far! better than the whitening gel i got from my dentist.
So easy to use
Easy use. Just put it on and let it work.
Quality product
Great product! I don't expect miracles, but it is definitely a treatment that helps keep teeth clean from the first application. I hope to have more visible results in the following days
Great product
Loving the product. It dis really help me whitening my teeth.
Best whitening gel.
Best kit I've found for whitening. I have been using a week so far and definitely noticed a good change in the shade of my pearly whites.
Clinically proven
Clinically proven to whiten teeth up to 10 shades in 7 days.

44% teeth whitening gel questions
1. Brush, floss and dry your teeth to get your smile ready to glow.
2. Apply a small line of gel to the inner front surface of a dental whitening tray or LED light (not included).
3. Wear for 30 minutes per day. Repeat for 7-14 days or until desired results are achieved.
3 syringes of 35% carbamide peroxide whitening gel (30 treatments). Each syringe is 5ml.
Our whitening gel is made in the USA with dental-grade whitening ingredients:
Propylene Glycol, Glycerine, Purified Water, Carbamide Peroxide, Hydrogen Peroxide, Triethanolamine, Ethanol, Carbomer, Peppermint Essential Oil, Potassium Nitrate, t-Butyl Alcohol, Brucine Sulfate
(44% carbamide peroxide)
Depending on your starting shade, most customers see results after their first treatment, or after a few uses daily. For best results, we recommend using the gel for 30 minutes per day for at least 7 days.
Yes, our products are safe when used as directed. In some cases, a small percentage of people may feel sensitivity or irritation with whitening products in general. In a clinical study of our whitening gel, participants felt no irritation or sensitivity.
Our whitening products will not whiten veneers or dental restorations. Our products work best on natural teeth. We do not recommend whitening with braces as the results can be uneven.
60 Day Money-Back Guarantee
If you don't love Auraglow products, send it back within 60 days for a full refund. We'll even cover return shipping.