Our Blog
108 Smile Quotes To Make Life Brighter
6/18/21
Back
There's a special kind of magic behind a smile. No matter if it's one that spreads across your face when you see someone you love or one that's shared with a stranger passing on the street, a smile has an uncanny ability to brighten our spirits and turn a bad day around — not to mention the numerous health benefits of flashing a grin. After all, we put a lot of work into making our smiles stand out, so we should do ourselves (and others!) a favor and share our smiles as much as possible.
When you need a little smile inspiration, it's easy to find joy in smile quotes from those who are just as great at crafting their words as they are at sharing a toothy grin. Whether you're having a bad day or are looking for a quote to brighten someone else's day, we've rounded up 108 smile quotes to do just that. We've also created downloadable phone wallpapers to remind you of the importance of sharing your smile with others.
Smile Quotes for Her
Every woman deserves to start her day on a positive note. Share one of the following smile quotes for her to keep her beaming all day long.
"A woman whose smile is open and whose expression is glad has a kind of beauty no matter what she wears." — Anne Roiphe | Writer and journalist
"The most beautiful curve on a woman's body is her smile." — Bob Marley | Singer, songwriter, and musician
"A woman has two smiles that an angel might envy, the smile that accepts a lover before words are uttered, and the smile that lights on the first born babe, and assures it of a mother's love." — Thomas Chandler Haliburton | Nova Scotian politician, judge, and author
"Your smile is the ultimate golden dream all the poems in the world are waking up from." — Sanober Khan | Author
"Her smile could wash away a thousand doubts as soon as light up a room." — Belinda Jeffery | Author
"A girl has to have a beautiful smile, beautiful eyes and she should have a good sense of humor. She should be honest, loving and trustworthy." — Justin Bieber | Musician
"A beautiful smile is to the female countenance what the sunbeam is to the landscape; it embellishes an inferior face and redeems an ugly one." — Johann Kaspar Lavater | Swiss poet and philosopher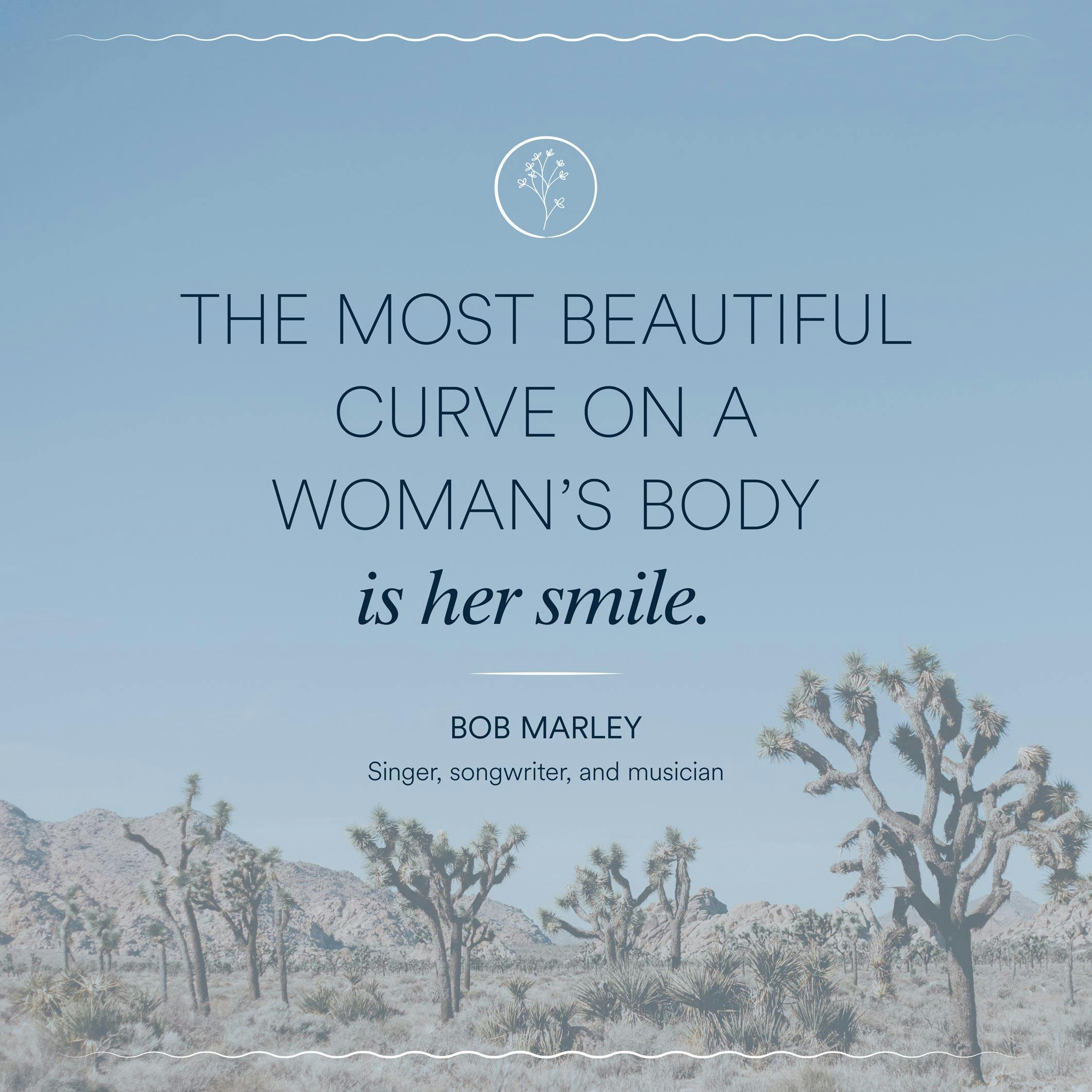 Smile Quotes for Him
We could all use a reminder or two to keep on smiling. Share these smile quotes for him with the men in your life to brighten their day. 11
"Anyone can smile on their best day. I like to meet a man who can smile on his worst." ― Lauren Graham | Actress
"If you're not using your smile, you're like a man with a million dollars in the bank and no checkbook." ​— Les Giblin | Author and personal development pioneer
"The real man smiles in trouble, gathers strength from distress, and grows brave by reflection." — Thomas Paine | Political activist and theorist
"Wear a smile and have friends; wear a scowl and have wrinkles." ​— Mary Ann Evans (known by her pen name, George Eliot) | Author and poet
"If I laugh a couple of times a day, I'm doing good. People think it's their God-given right to be happy, and it's just not. It's something you've got to work at." — John Mellencamp | Musician
"Life is made up, not of great sacrifices or duties, but of little things, in which smiles and kindness, and small obligations given habitually, are what preserve the heart and secure comfort." — Humphry Davy | Chemist
"I'm a firm believer in smiles. I used to believe that everything had to be a belly laugh. But I've come to realize that a real sincere smile is mighty powerful." — Roy Clark | Musician
"Because of your smile, you make life more beautiful." — Thich Nhat Hanh | Vietnamese monk
"Most smiles are started by another smile." — Frank A. Clark | Lawyer and politician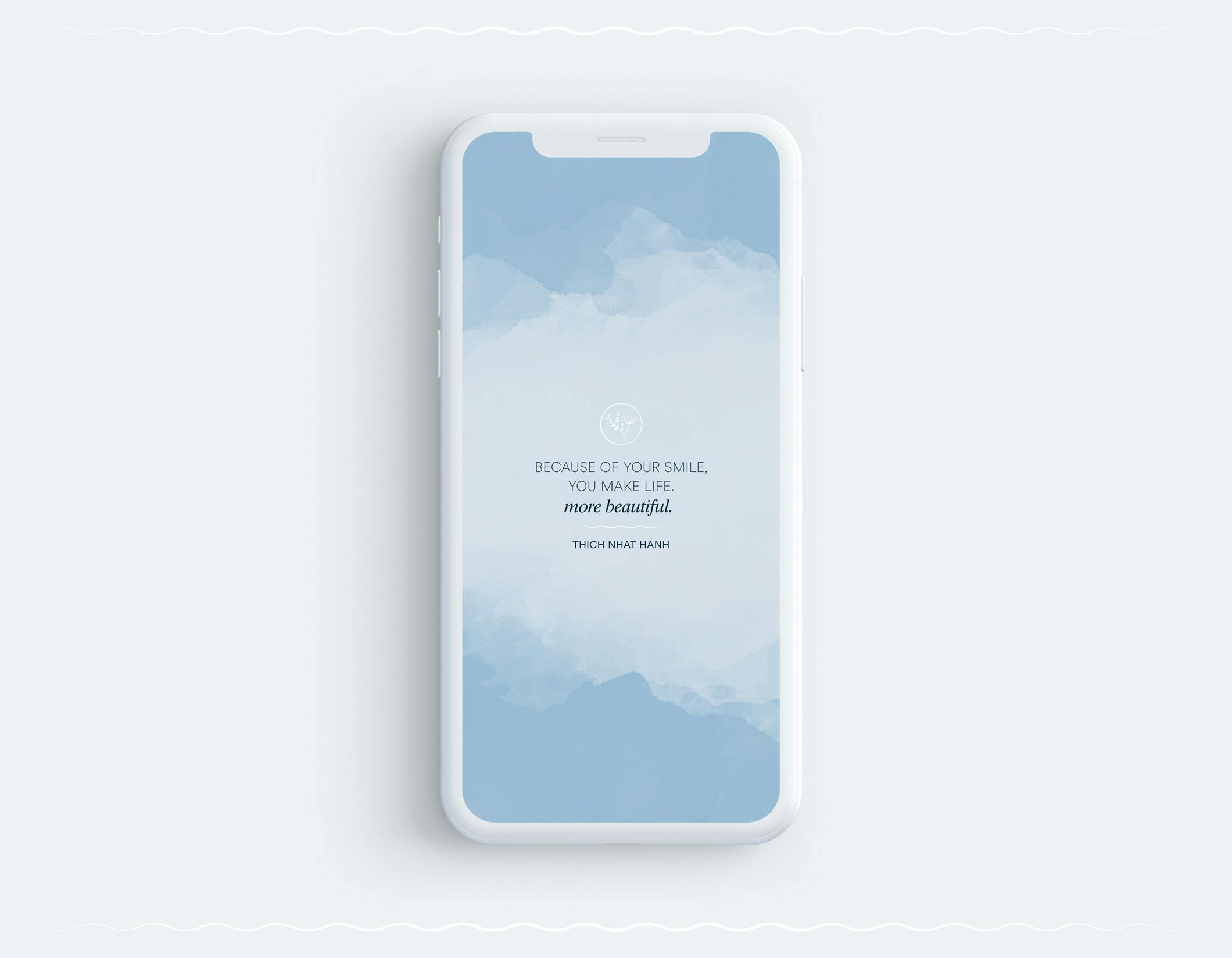 Smile Quote for Parents
There's just something special about putting a smile on a child's face. We gathered a few beautiful lines from parents to remind us all of the importance of sharing smiles with little ones.
"A laugh is a smile out of control." — Wyatt B. Pringle Jr.
"There are no words that can describe the euphoria you feel when your baby recognizes you for the first time and smiles." — Jared Padalecki | Actor
"A child's smile is worth more than all the money in the world." — Lionel Messi | Professional soccer player
"Wrinkles should merely indicate where smiles have been." — Mark Twain | Author
"Youth smiles without any reason. It is one of its chiefest charms." — Thomas Gray | Poet
"Children show me in their playful smiles the divine in everyone. This simple goodness shines straight from their hearts and only asks to be loved." — Michael Jackson | Musician
"Life is full of beauty. Notice it. Notice the bumble bee, the small child, and the smiling faces. Smell the rain, and feel the wind. Live your life to the fullest potential, and fight for your dreams." — Ashley Smith | Model
"Once I see my mother's smiling face, I forget all the shooting pressures and tensions. I am the happiest person at that moment." — Prabhas | Actor
"To me there is no picture so beautiful as smiling, bright-eyed, happy children; no music so sweet as their clear and ringing laughter." — P. T. Barnum | Businessman, politician, and showman
"If you have only one smile in you, give it to the people you love. Don't be surly at home, then go out in the street and start grinning 'Good morning' at total strangers." — Maya Angelou | Poet and civil rights activist
"A child regards your cheery smile as evidence that you are on his side, so he relaxes and is happier." — George W. Crane | Psychologist and physician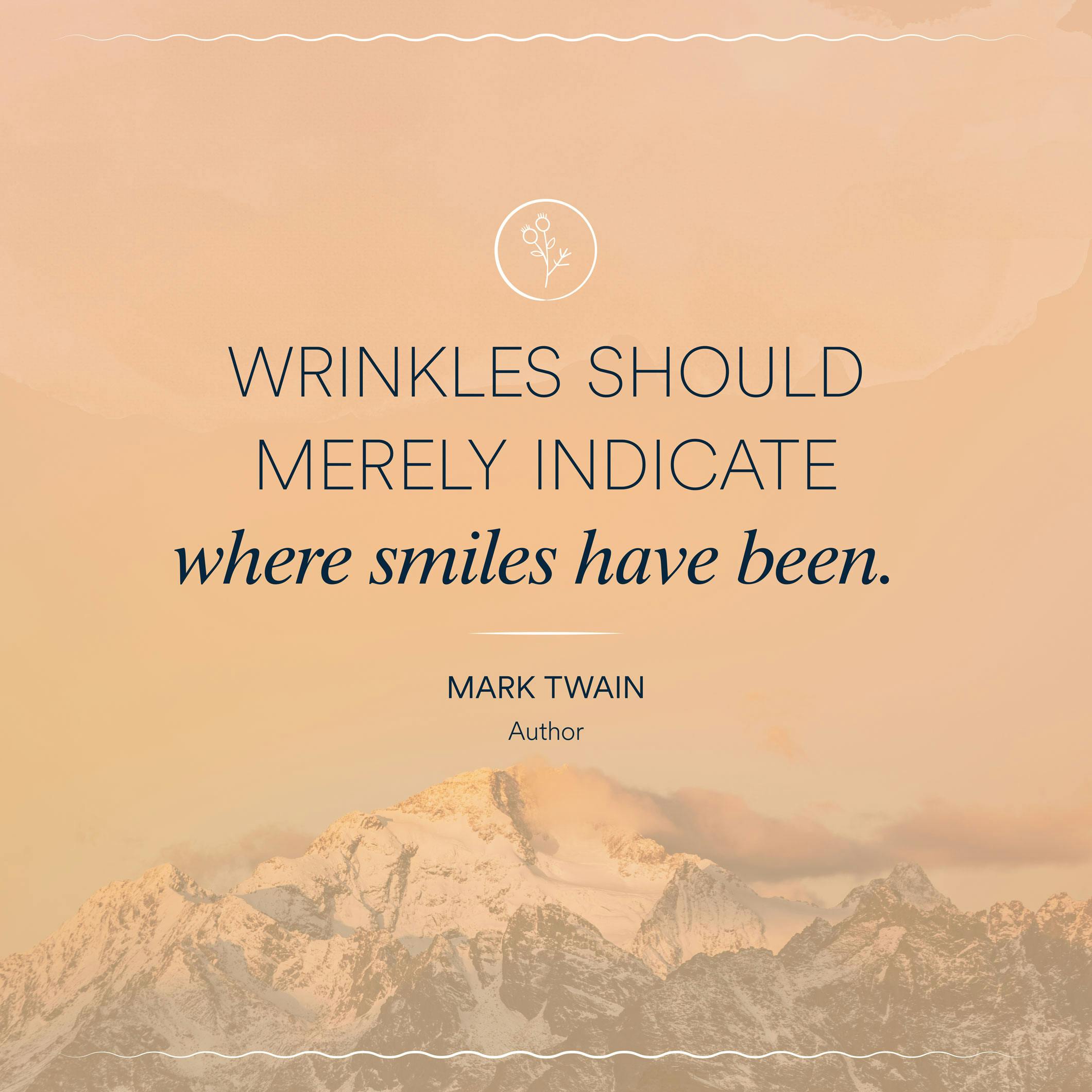 Quotes About the Power of a Smile
From Winnie the Pooh to Albert Einstein, there's no shortage of incredible insight within these quotes that underscore the power a smile holds.
"What sunshine is to flowers, smiles are to humanity. These are but trifles, to be sure; but scattered along life's pathway, the good they do is inconceivable." — Joseph Addison | Essayist and playwright
"Nobody needs a smile so much as the one who has none to give. So get used to smiling heart-warming smiles, and you will spread sunshine in a sometimes dreary world." — Lawrence G. Lovasik | Missionary
"Always wear a smile, because your smile is a reason for many others to smile!" — Winnie the Pooh
"Be thou the rainbow in the storms of life. The evening beam that smiles the clouds away, and tints tomorrow with prophetic ray." — Lord Byron | Poet and politician
"I receive kindness every day. I love to smile when I'm out and about, and if someone smiles back, which happens about half the time, I think that's an act of kindness every couple of minutes in my day." — Eddie the Eagle | Ski jumper
"Smiling is very important. If we are not able to smile, then the world will not have peace. It is not by going out for a demonstration against nuclear missiles that we can bring about peace. It is with our capacity of smiling, breathing, and being at peace that we can make peace." — Thich Nhat Hanh | Vietnamese monk
"A smile is the chosen vehicle of all ambiguities."​ — Herman Melville | Writer
"Your smile brightens the lives of all who see it. To someone who has seen a dozen people frown, scowl or turn their faces away, your smile is like the sun breaking through the clouds." — Dale Carnegie | Writer and lecturer
"Every time you smile at someone, it is an action of love, a gift to that person, a beautiful thing." — Mother Teresa | Nun and missionary
"All the statistics in the world can't measure the warmth of a smile." — Chris Hart | Singer
"That man is here for the sake of other men — above all for those upon whose smiles and well-being our own happiness depends." — Albert Einstein | Theoretical physicist
"People don't smile because they're happy. They're happy because they smile." — Lee Dong-Hae | South Korean singer-songwriter
"Just smiling at someone walking down the street can make the person's day. It's all about paying it forward." — Mariska Hargitay | Actress
"If someone is too tired to give you a smile, leave one of your own, because no one needs a smile as much as those who have none to give." — Samson Raphael Hirsch | Rabbi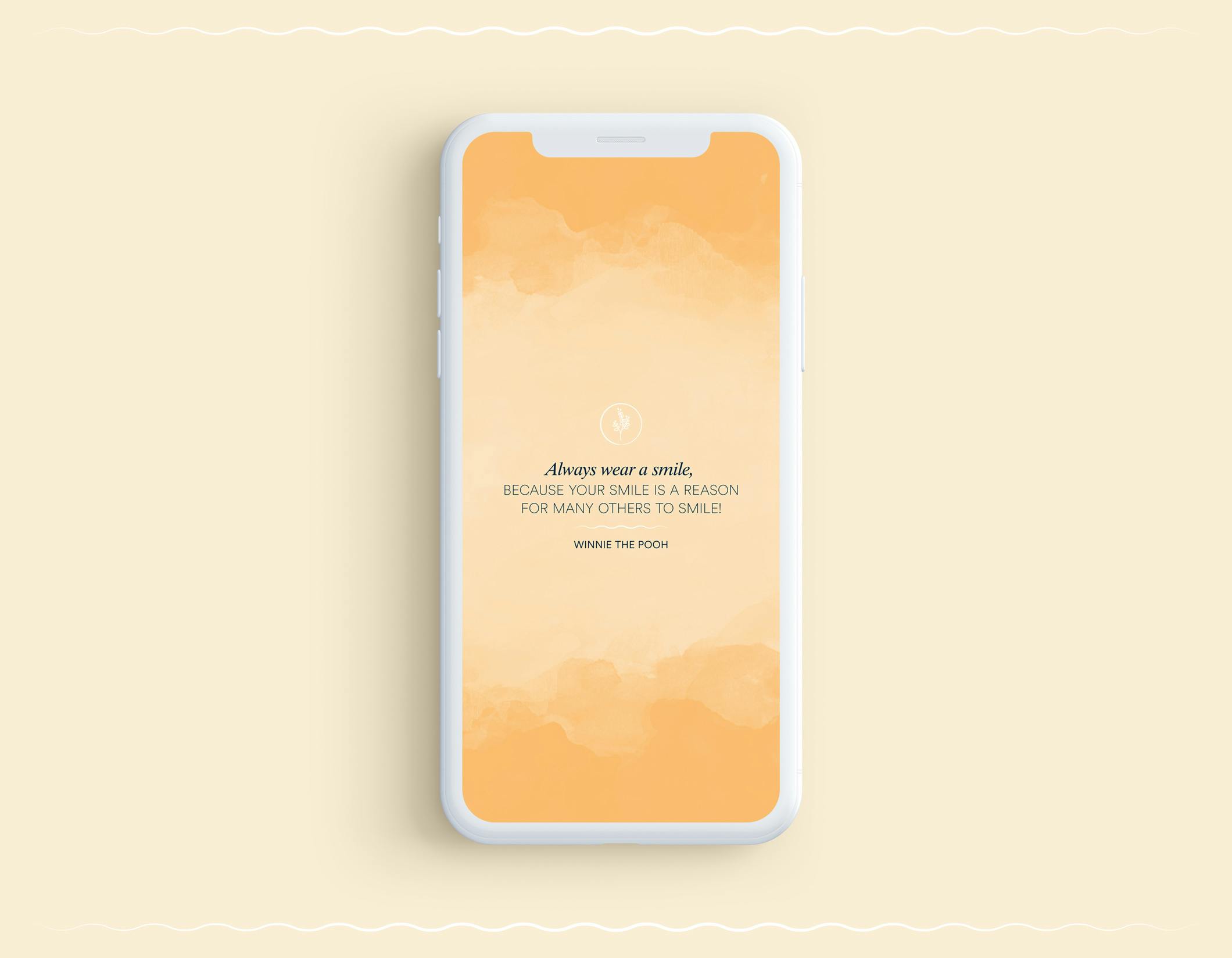 Smile Quotes for Bad Days
We're all bound to go through rough times, but the ability to smile through the heartache is a skill that will help pull you through. Share these smile quotes with someone you know that may need a little sunshine in their day.
"Don't cry because it's over, smile because it happened." — Dr. Seuss (pen name of Theodor Seuss Geisel) | Author
"Never regret anything that made you smile." — Mark Twain | Author
"A smile doesn't always stand for a perfect life." ― Faraaz Kazi | Author
"Smile, smile, smile at your mind as often as possible. Your smiling will considerably reduce your mind's tearing tension." — Sri Chinmoy | Spiritual leader
"A smile is a curve that sets everything straight." — Phyllis Diller | Comedian, actress, author, and musician
"Smile. It's free therapy" — Douglas Horton | Clergyman and academic leader
"Hope smiles from the threshold of the year to come, whispering, 'It will be happier.'" — Alfred Tennyson | Poet
"A smile cures the wounding of a frown." — William Shakespeare | Playwright, poet, and actor
"It takes a lot of energy to be negative. You have to work at it. But smiling is painless. I'd rather spend my energy smiling." — Eric Davis | Professional baseball player
"I like smiling! Smiling's my favorite." — Buddy the Elf
"I was smiling yesterday, I am smiling today and I will smile tomorrow. Simply because life is too short to cry for anything." — Santosh Kalwar | Author
"A smile puts you on the right track. A smile makes the world a beautiful place. When you lose your smile, you lose your way in the chaos of life." — Roy T. Bennett | Author
"The robbed that smiles, steals something from the thief." — William Shakespeare | Playwright, poet, and actor
"This is my wish for you: Comfort on difficult days, smiles when sadness intrudes, rainbows to follow the clouds, laughter to kiss your lips, sunsets to warm your heart, hugs when spirits sag, beauty for your eyes to see, friendships to brighten your being, faith so that you can believe, confidence for when you doubt, courage to know yourself, patience to accept the truth, love to complete your life." — Ralph Waldo Emerson | Essayist and poet
"Smile is a good reply to the dark world." — Mehmet Murat Ildan | Turkish playwright and novelist
"Before you put on a frown, make absolutely sure there are no smiles available." — James M. Beggs | Businessman and consultant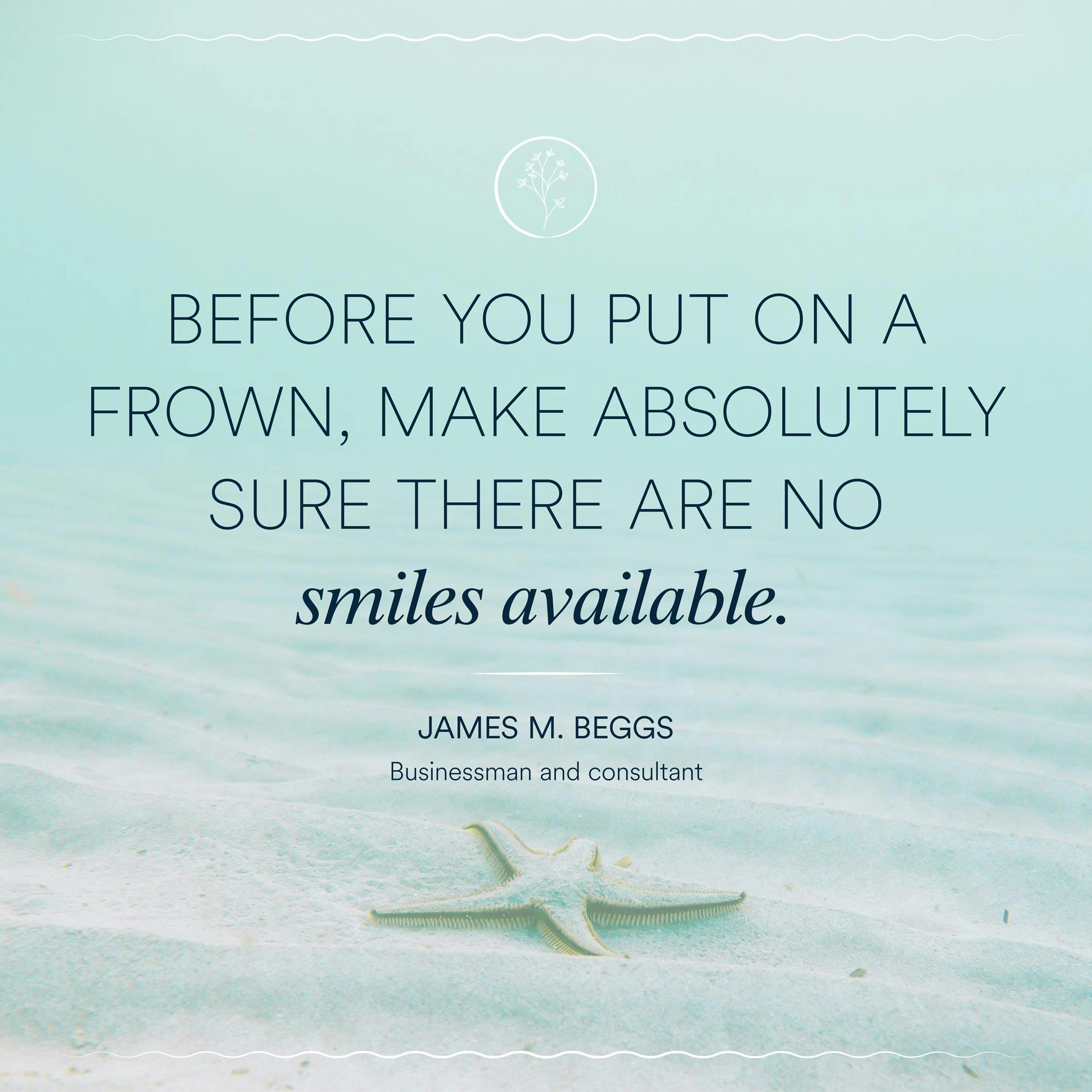 Smile Quotes About Love
Love and smiles go hand-in-hand. Spark a smile on your loved one's face by sharing one of these smile quotes about love.
"Let us always meet each other with a smile, for the smile is the beginning of love." — Mother Teresa | Nun and missionary
"Smiles, tears, of all my life; and, if God choose, I shall but love thee better after death." — Elizabeth Barrett Browning | Poet
"The real lover is the man who can thrill you just by touching your head or smiling into your eyes — or just by staring into space." — Marilyn Monroe | Actress
"The most beautiful smile is the one for someone who isn't there, who just popped on your mind." — Ahlam Mosteghanemi | Writer
"A simple smile. That's the start of opening your heart and being compassionate to others." — Dalai Lama | Buddhist monk
"When I saw you I fell in love and you smiled because you knew." — Arrigo Boito | Poet, and composer
"Smile, it is the key that fits the lock of everybody's heart." — Anthony J. D'Angelo | Author
"Science teaches to think but love teaches to smile." — Santosh Kalwar | Author
"Spend your life with people who make you smile, laugh, and feel loved." — Roy T. Bennett | Author
"Whatever happens, just keep smiling and lose yourself in love." — Rumi | Persian poet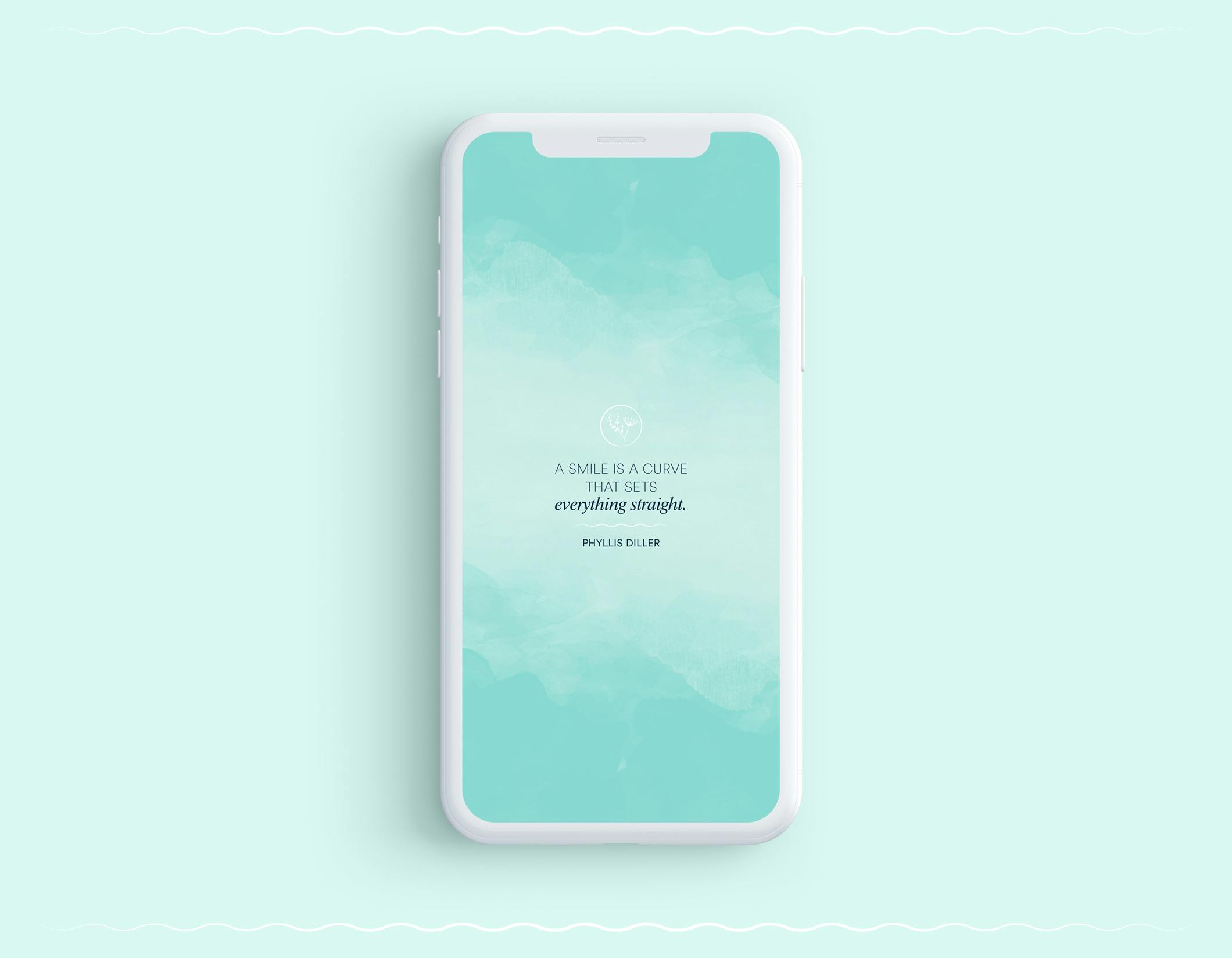 Smile Quotes About Self-Confidence
It's amazing what a smile can do to not only brighten someone else's day but to boost our own confidence. Spark a smile in someone you know with a few of these smile quotes to improve self-confidence.
"Always wear a smile sometime during the day, it makes you feel happier and younger." ​— Kylie Bax | Model and actress
"People seldom notice old clothes if you wear a big smile." — Milton A. Lee | U.S. soldier and Medal of Honor recipient
"A smile is the light in your window that tells others that there is a caring, sharing person inside." — Denis Waitley | Motivational speaker
"Smile in the mirror. Do that every morning and you'll start to see a big difference in your life." — Yoko Ono | Artist and singer
"What I've never understood is why some women use plastic surgery to make themselves more attractive to men. The most beautiful woman is someone who's happy and is always smiling." — Irina Shayk | Model
"Nothing you wear is more important than your smile." — Connie Stevens | Actress
"Share your smile with the world. It's a symbol of friendship and peace." — Christie Brinkley | Model
"As long as you smile, have sparkly eyes and stick your shoulders back, nobody's going to notice your bum or your waist or your feet, for that matter." — Cat Deeley | Television presenter and model
"Your smile will give you a positive countenance that will make people feel comfortable around you." — Les Brown | Motivational speaker
"When you smile, you don't only appear to be more likable and courteous, you appear to be more competent." — Ron Gutman | Inventor and investor
"Beauty is power; a smile is its sword." — John Ray | English naturalist
"The greatest self is a peaceful smile, that always sees the world smiling back." — Bryant H. McGill | Activist
"You're never fully dressed without a smile." — "Annie" musical
"Nothing shakes the smiling heart." ​— Santosh Kalwar | Author
"I add a smile to everything I wear and that has worked great for me." — David White | Actor
"A smile is the best makeup any girl can wear." — Marilyn Monroe | Actress
"When you smile and project an aura of warmth, kindness, and friendliness, you will attract warmth, kindness, and friendliness. Happy people will be drawn to you." — Joel Osteen | Pastor
"Teeth aren't pearly, until you smile." — Anthony Liccione | Author
"Smile. It increases your face value!" — Robert Harling | Writer, producer, film director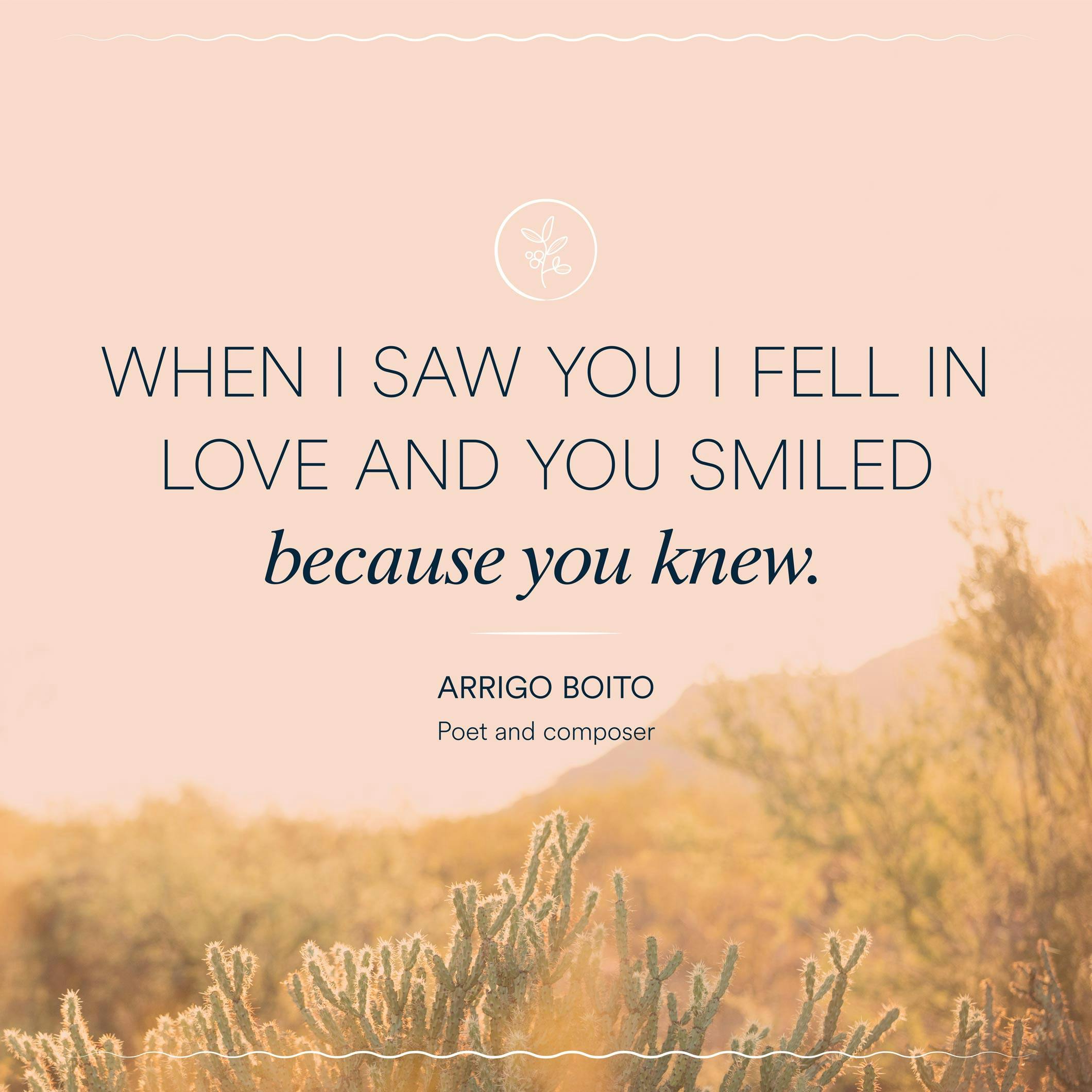 Smile Quotes from Literature
We would be remiss not to include a few famous smile quotes from literature. From F. Scott Fitzgerald to Roald Dahl, there's quite a bit of wisdom within these quotes.
"Who knows her smile has known a perfect thing." — Edmond Rostand | From "Cyrano de Bergerac"
"I was glad my father was an eye-smiler. It meant he never gave me a fake smile because it's impossible to make your eyes twinkle if you aren't feeling twinkly yourself. A mouth-smile is different. You can fake a mouth-smile any time you want, simply by moving your lips. I've also learned that a real mouth-smile always has an eye-smile to go with it. So watch out, I say, when someone smiles at you but his eyes stay the same. It's sure to be a phony." — Roald Dahl | From "Danny, the Champion of the World"
"She smiled, a moving childish smile that was like all the lost youth in the world." — F. Scott Fitzgerald | From "Tender Is the Night"
"It made her think that it was curious how much nicer a person looked when he smiled." — Frances Hodgson Burnett | From "The Secret Garden"
"He had one of those rare smiles with a quality of eternal reassurance in it, that you may come across four or five times in life." — F. Scott Fitzgerald | From "The Great Gatsby"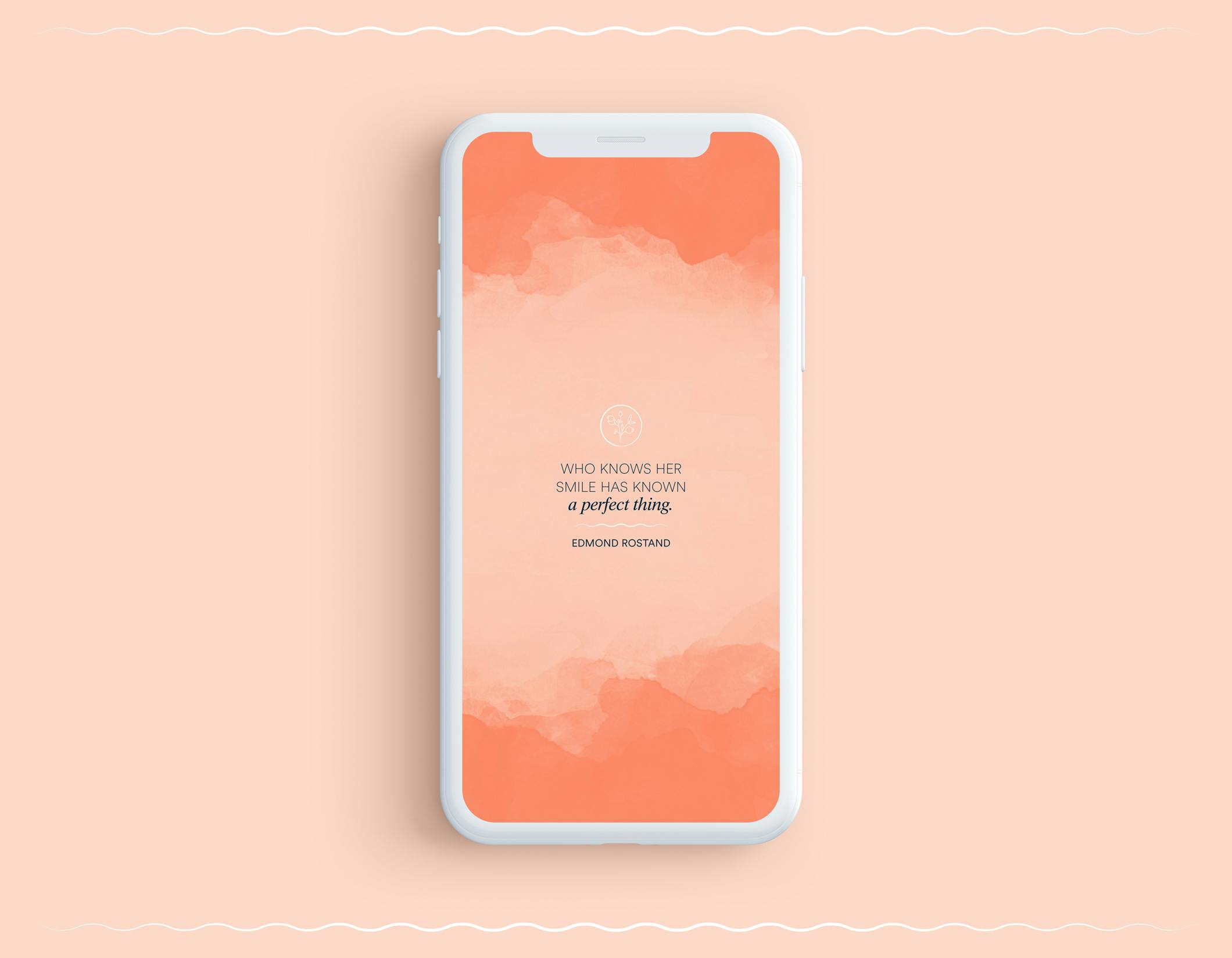 Smile Quotes from Celebrities
We know them best from the big screen and music stages, but celebrities are also well-versed in smiling on red carpets and for press interviews. They share a little of their industry insights in these smile quotes below.
"Let your smile change the world. Don't let the world change your smile." — Will Smith | Actor
"Everyone smiles in the same language." — George Carlin | Comedian
"I have many problems in life. But my lips don't know that. They always smile." — Charlie Chaplin | Comic actor
"Smiling is definitely one of the best beauty remedies. If you have a good sense of humor and a good approach to life, that's beautiful." — Rashida Jones | Actress
"You can only hold a smile for so long, after that it's just teeth." ​— Chuck Palahniuk | Journalist
"I have witnessed the softening of the hardest of hearts by a simple smile." — Goldie Hawn | Actress
"Smiles are everywhere, and smiles can spread. You can smile to someone, and they'll smile to another person, and it goes on and on and on." — Jacob Tremblay | Actor
"The first time I see a jogger smiling, I'll consider it." — Joan Rivers | Comedian
"Negativity isn't the way to go, smile more, eat some chocolate." — Ed Sheeran | Musician
"Nothing is more beautiful than a smile that has struggled through tears." — Demi Lovato | Musician and actress
"I can calculate everything, even the velocity of light but can't calculate the 'hate' of people behind their smile." — Albert Einstein | Theoretical physicist
"Mama told me that every time you smile, a very tiny bit of the smile stays stuck to your face, so as you get older and older your face starts to show all the tiny bits of all your smiles and you look like you are smiling all the time, even when you are just thinking about what to have for breakfast. She said, also, that if you frown a lot then the frown sticks to your face instead. That way when you are old you have a very frowny face and look cross all the time and people are scared of you." — Claire King | Actress

Smile Quotes on Kindness
It's no secret that a smile can be one of the simplest forms of kindness. These quotes remind us to pass along a smile because you never know what someone else may be going through.
"A kind heart is a fountain of gladness, making everything in its vicinity freshen into smiles." — Washington Irving | Short story writer
"Few things in the world are more powerful than a positive push. A smile. A word of optimism and hope. And you can do it when things are tough." — Richard M. DeVos | Businessman
"Too often we underestimate the power of a touch, a smile, a kind word, a listening ear, an honest compliment, or the smallest act of caring, all of which have the potential to turn a life around." — Leo Buscaglia | Author
"A gentle word, a kind look, a good-natured smile can work wonders and accomplish miracles." — William Hazlitt | Essayist
"Focus on giving smiles away and you will always discover that your own smiles will always be in great supply!" — Joyce Meyer | Author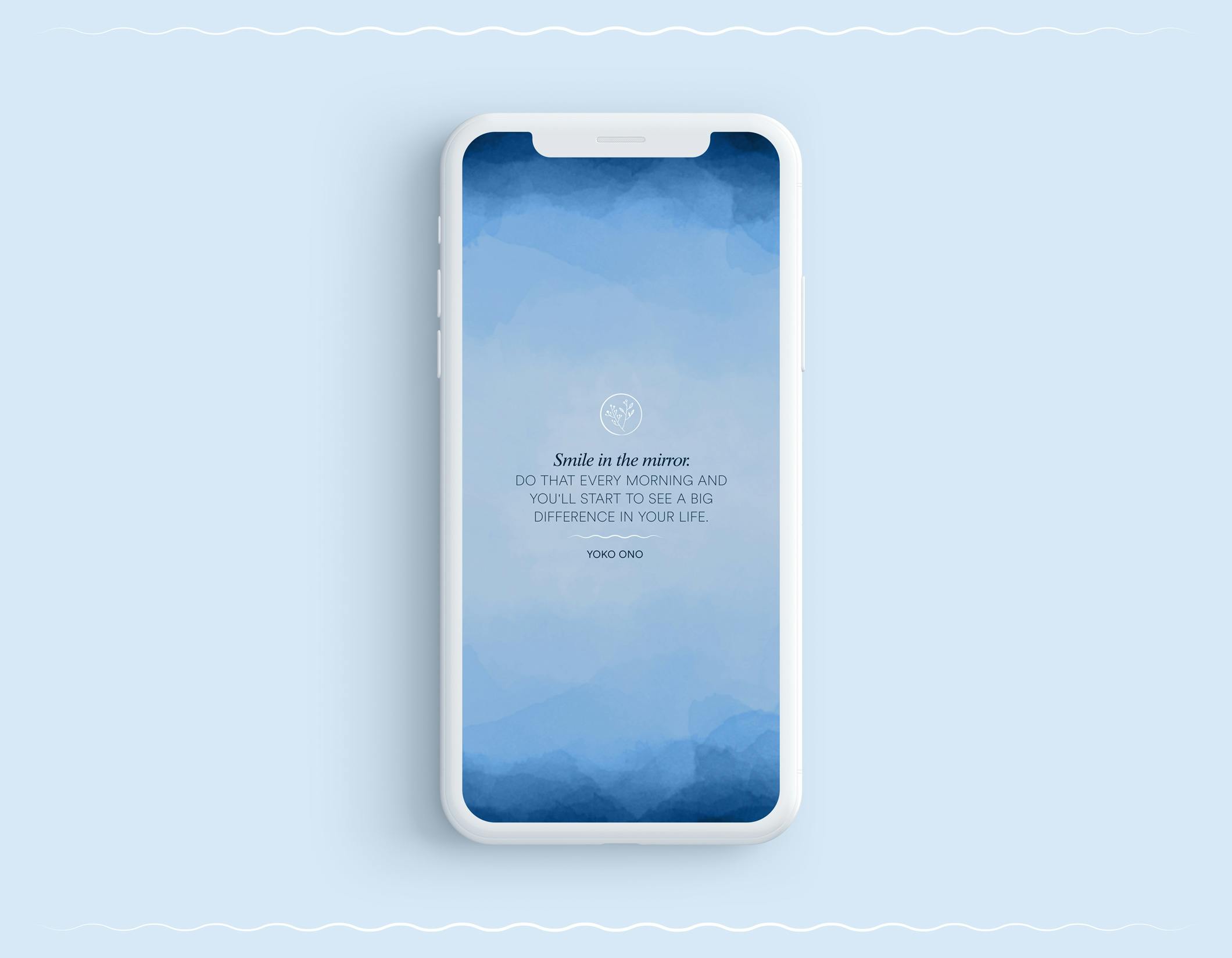 Songs To Put a Smile on Your Face
If you're looking for even more smile inspiration, we recommend putting on one of these tunes to brighten your spirits and remind you to smile like you mean it.
"Smile" — Nat King Cole
"Smile Like You Mean It" — The Killers
"A Certain Smile" — Johnny Mathis
"Smile Away" — Paul McCartney
"Smile" — Lily Allen
"Can't Smile Without You" — Barry Manilow
"Sara Smile" — Daryl Hall & John Oates
"Just to See You Smile" — Tim McGraw

As you can see, smiles are an integral part of life and help to spread a little kindness to those around us. Not only can a smile improve your confidence and outlook on life, but it can also help you nail a promotion and deepen relationships with others. We hope these smile quotes will help motivate and inspire you to smile a little more and share your pearly whites with the world!