Our Blog
12 DIY Lip Masks to Beat Winter Dryness
11/19/20
Back
The holidays are full of family, friends, gatherings, and warm smiles. However, dry winter air can take a toll on your precious pout. If you suffer from chapped lips and aren't happy with your current smile, try a more natural route.
If you'd rather DIY than buy, we've rounded up 12 DIY lip masks that will exfoliate, moisturize, and hydrate so you don't have to worry about cracked lips as you start to plan for the holiday season.
DIY Exfoliating Lip Masks
Before you moisturize, you should always exfoliate. If your lips are flaky and chapped from the cold winter weather, try out one of the exfoliating lips masks below. These masks include ingredients with hydrating and healing properties that work wonders on dry lips.
1. Luscious Lavender Lip Scrub
If you have cracked lips, honey can help moisturize and exfoliate — scrubbing off dead skin cells and protecting them from infection. Lavender oil also works wonders on chapped lips. It contains properties that heal skin tissue and help soothe inflammation. This DIY lip mask combines all of these ingredients, plus brown sugar to create an exfoliating, yet hydrating mask you'll love.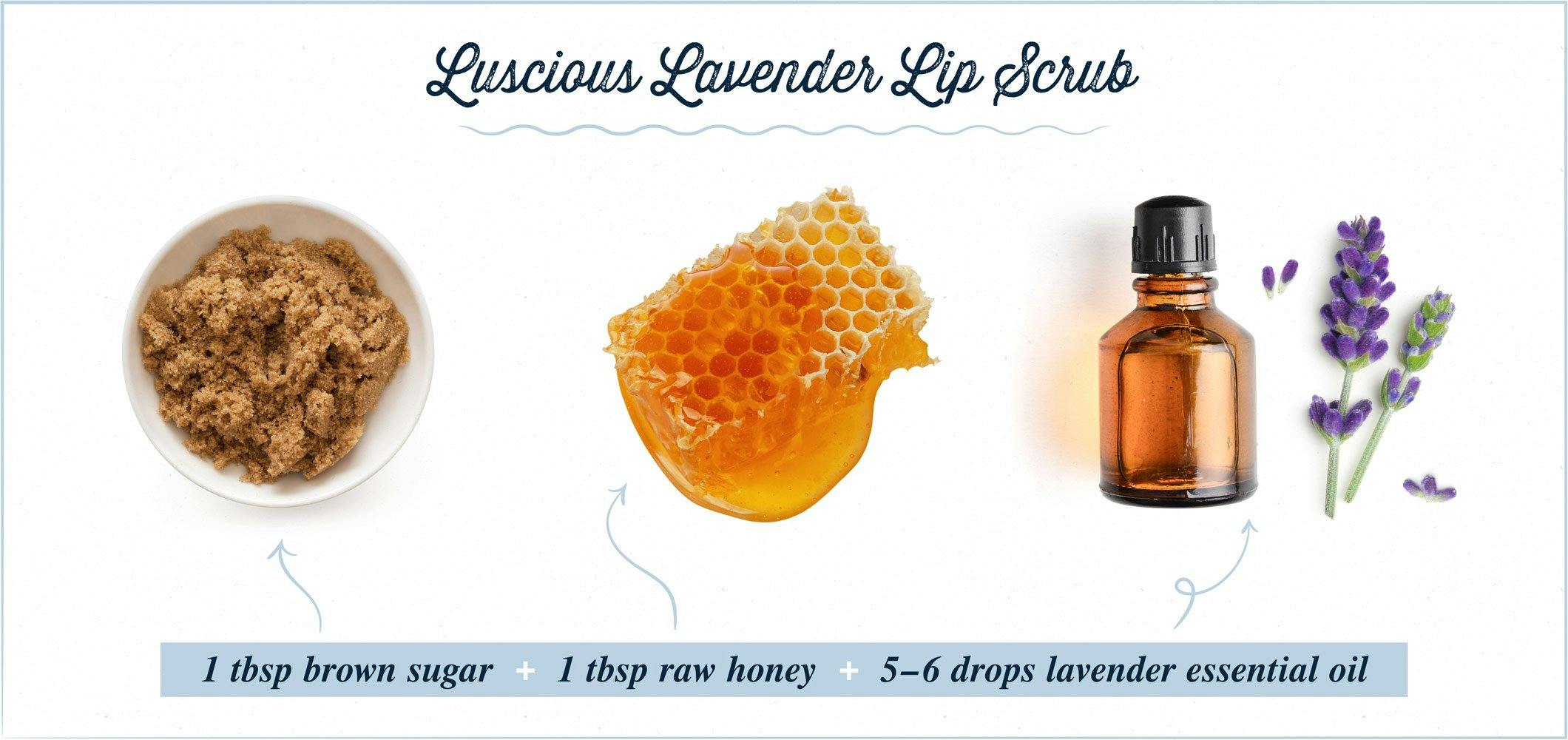 Ingredients:
1 tablespoon of brown sugar
1 tablespoon of raw honey
5–6 drops of lavender essential oil
Directions:
Mix the raw honey and brown sugar in a small bowl.
Add in your lavender essential oil and mix well.
Massage the scrub onto your lips in a circular motion for two to three minutes.
After, wash away the mixture with warm water and apply a hydrating lip balm to lock in moisture.
2. Chocolate Dream Scrub
Satisfy your sugar cravings with this chocolate-infused lip mask. Not only does cocoa powder taste delicious, but it can also boost collagen and increase skin elasticity. Not to mention, it contains a high volume of vitamin E and antioxidants that can protect and nourish the skin. What more could you ask for in a lip mask?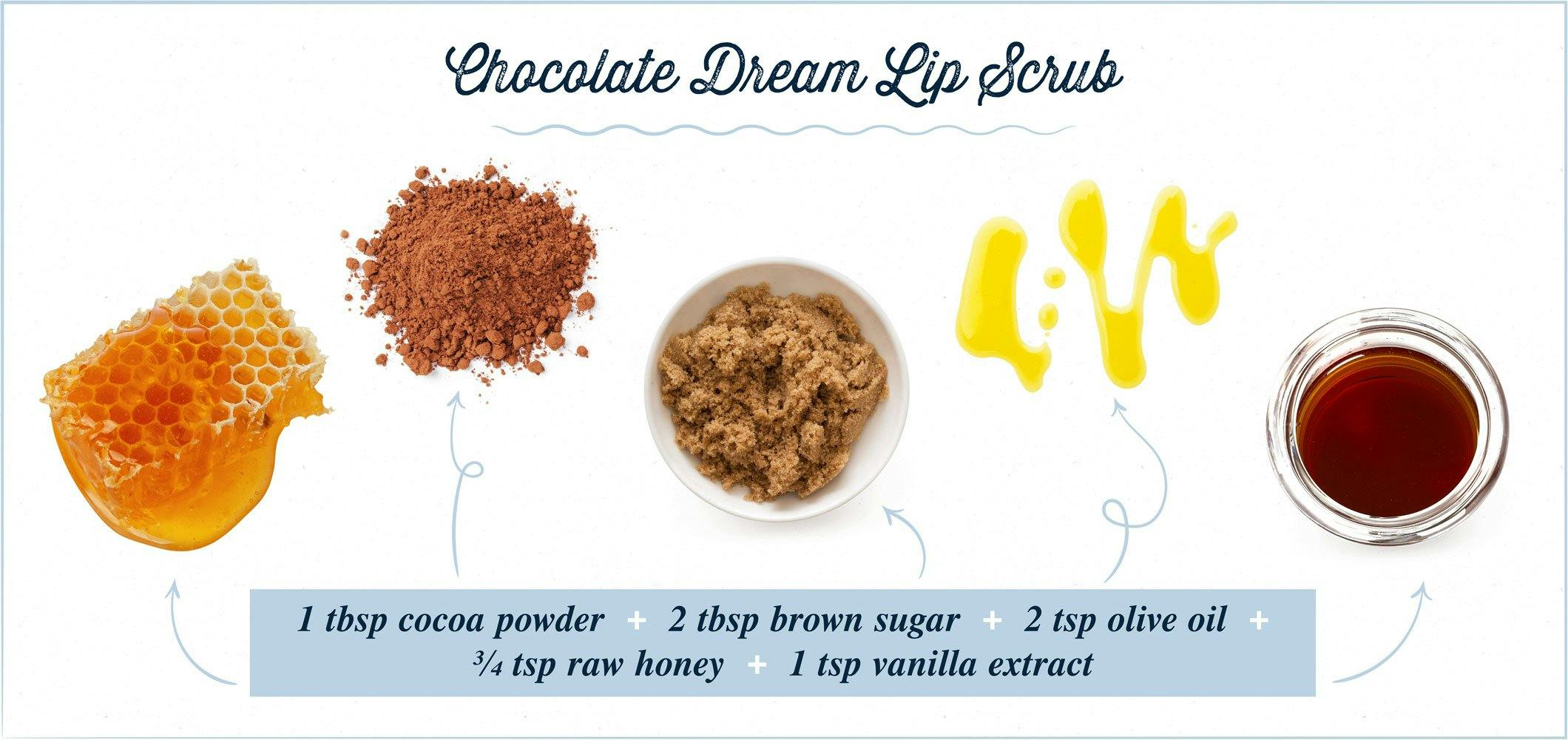 Ingredients:
2 tablespoons of brown sugar
1 tablespoon of cocoa powder
1 teaspoon of vanilla extract
2 teaspoons of olive oil
3/4 teaspoon of raw honey
Directions:
Mix together all ingredients in a small bowl.
Once blended, apply the scrub to your lips and massage in a circular motion.
Leave the mask on for five minutes and wash off with warm water.

3. Berry Tropical Lip Scrub
Kiwis and strawberries are rich in vitamin C — a nutrient that can boost skin elasticity and increase moisture. These ingredients are paired with olive oil and sugar to create a soothing yet exfoliating effect.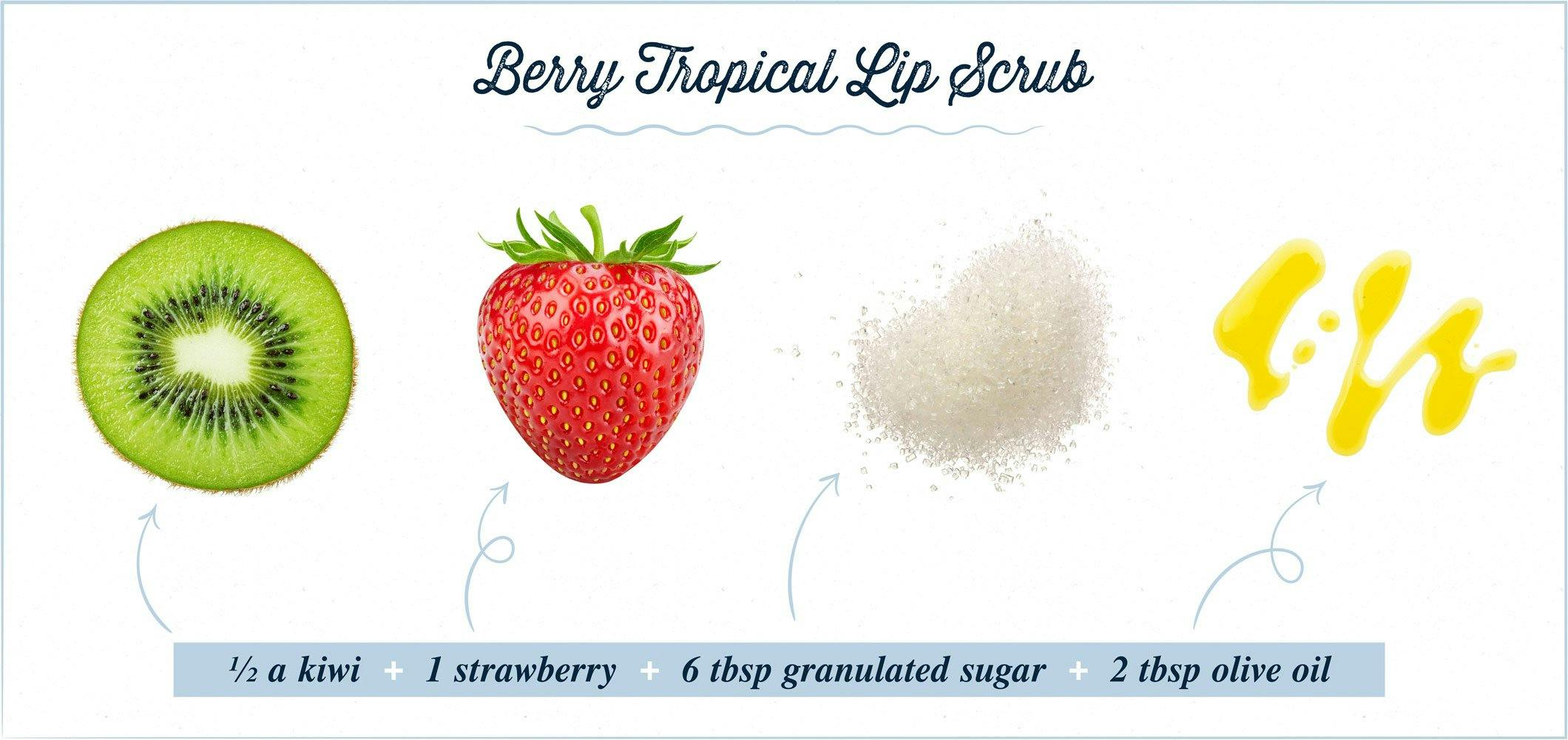 Ingredients:
½ a kiwi
1 strawberry
2 tablespoons of olive oil
6 tablespoons of granulated sugar
Directions:
Place the strawberry and kiwi in a blender and blend until smooth.
In a small bowl, mix together the sugar and olive oil.
Add the blended fruits to the bowl and stir.
Once the mixture is well blended, apply the scrub by massaging on your lips in a circular motion.
After about a minute, rinse with warm water.
4. Sugar and Spice Lip Scrub
If you're a fan of Indian food, then you've definitely used turmeric. This spice favorite contains a high amount of curcumin — a powerful antioxidant that can help fight aging and inflammation. Turmeric has become a popular ingredient in face and lip masks for that reason. If your lips tend to crack and peel, this DIY lip mask is a must!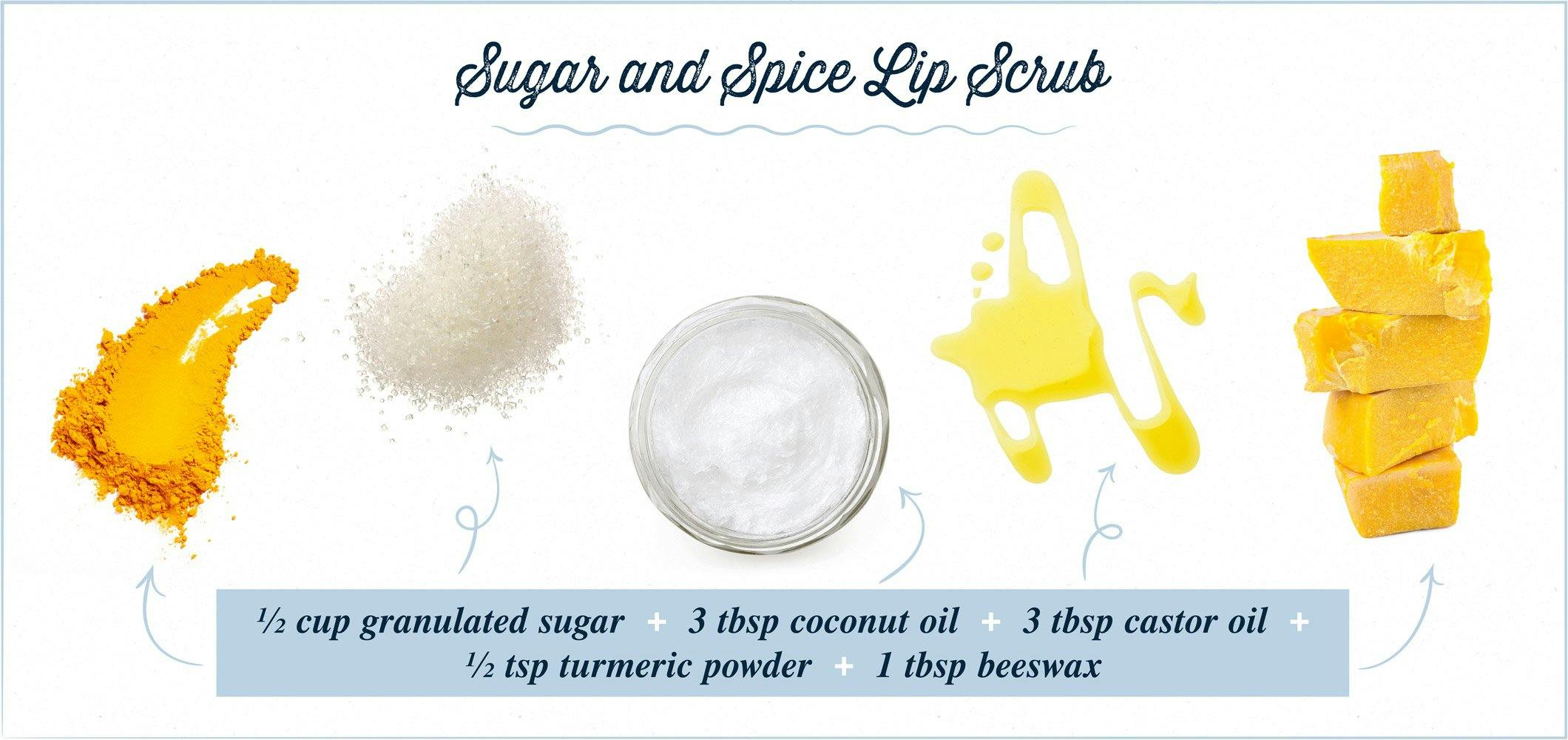 Ingredients:
½ teaspoon pure turmeric powder
3 tablespoons of coconut oil
3 tablespoons of castor oil
½ cup of granulated sugar
1 tablespoon of beeswax
Directions:
Mix together coconut oil and turmeric powder into a small bowl.
Once blended, add in castor oil and sugar and mix well.
Then, add in beeswax and mix until the mixture is thick and well blended.
Microwave the mixture for about one to two minutes in 30-second intervals, stirring in between.
Once done, stir and place in a container.
Let sit for about 30 minutes and then apply to your lips.
DIY Moisturizing Lip Masks
If you suffer from a parched pout, look no further! These moisturizing lip masks are jam-packed with hydrating ingredients that will soothe dry lips. We recommend applying these masks while lying down to avoid them from dripping off your lips.
5. Smooth Like Butter Lip Mask
This lip mask mixes shea butter and beeswax to create a hydrating substance that will leave your lips feeling soft and plump. Shea butter is full of antioxidants and fatty acids that can heal chapped lips and beeswax is added to moisturize and prevent against infections. To add some color to the mask, mix in a pinch of your favorite lipstick.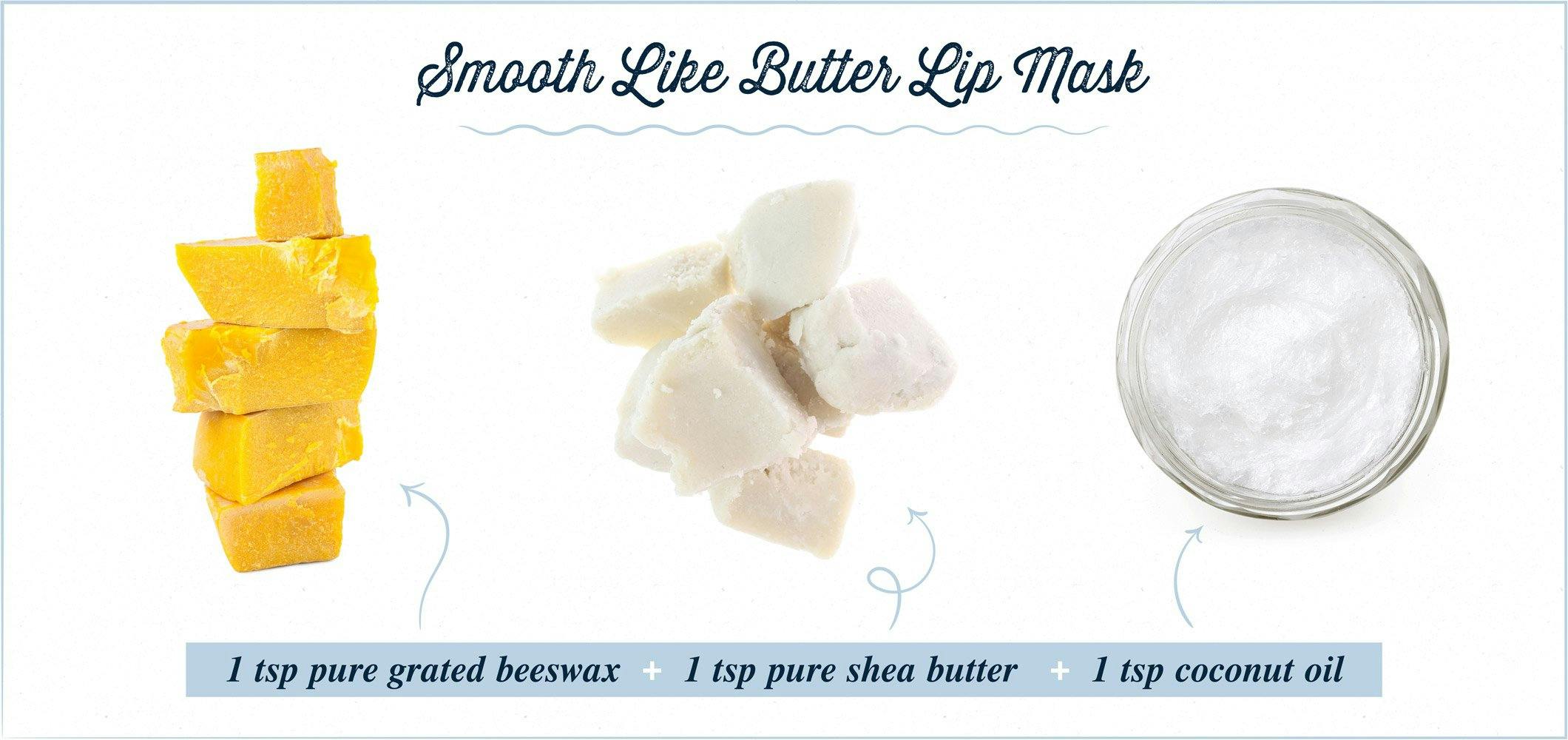 Ingredients:
1 teaspoon of 100% pure grated beeswax
1 teaspoon of 100% pure shea butter
1 teaspoon of coconut oil
Colored lipstick (optional)
Directions:
Boil water in a bowl.
Add shea butter to a smaller bowl and place the bowl in the bowl of boiling water.
Wait for the shea butter to melt, then add the beeswax and stir.
Add the coconut oil and a pinch of lipstick for color.
Stir carefully without letting any water get into the smaller bowl.
Once the substance has melted completely, transfer it to a sealable plastic container.
Refrigerate for about an hour.
Apply once a day before bed or overnight for the best results.

6. Berry Dewy Lip Mask
Not only are strawberries good for your teeth, but they work wonders on your lips as well! Strawberries are jam-packed with vitamin C which can help condition and repair chapped lips. They also contain collagen properties — leaving your lips looking young and dewy.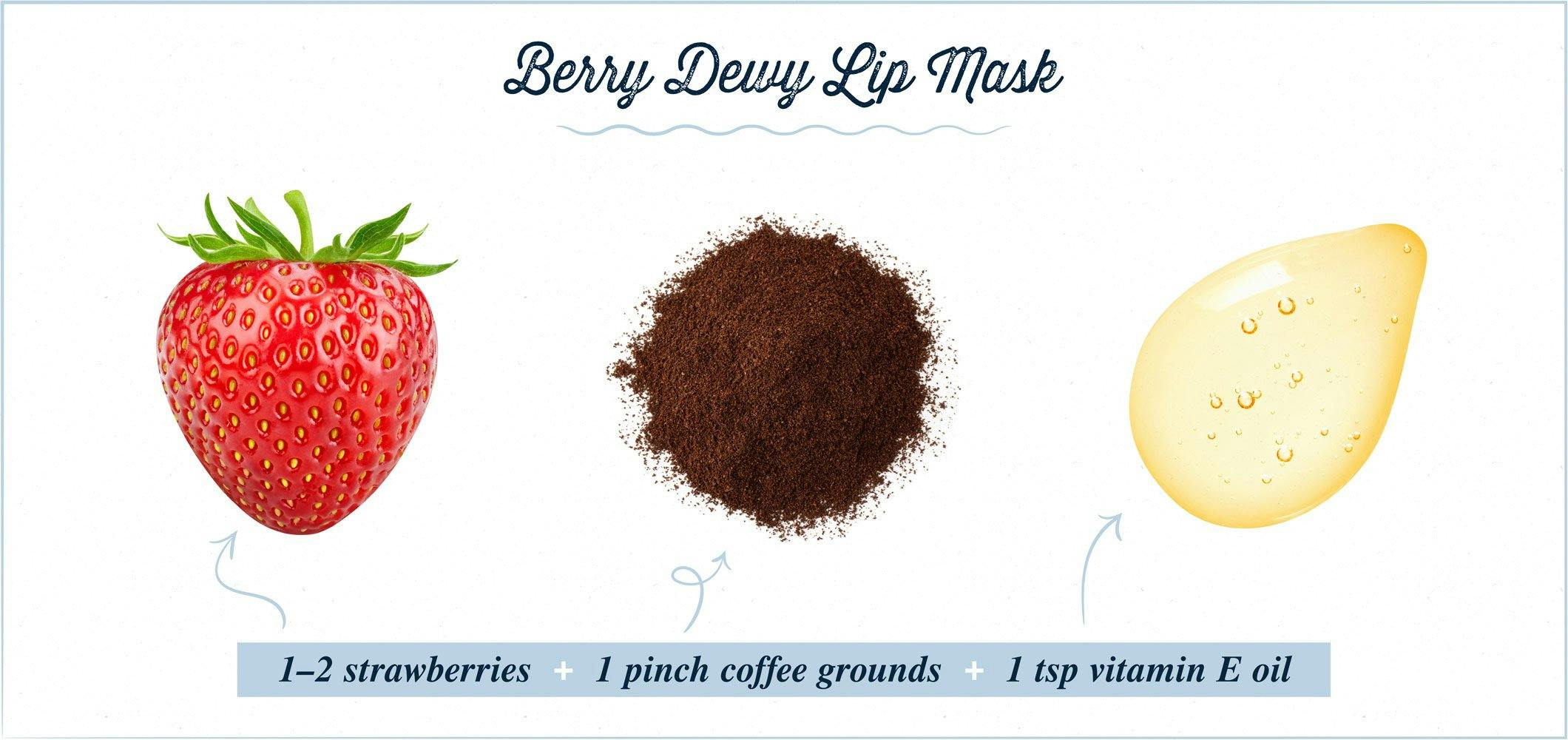 Ingredients:
1–2 strawberries
1 teaspoon of vitamin E oil
A pinch of coffee grounds
Directions:
Mash strawberries.
Add in the vitamin E oil to create a silky consistency (feel free to add in more or less to create the texture you like).
Add a pinch of coffee grounds to act as an exfoliant.
Mix together and apply to your lips.
Leave on for 20–30 minutes for hydrated lips.
7. Green Hydrating Lip Mask
Avocado isn't just for toast. It's commonly used for face, lip, and even hair masks! Avocado contains vitamin C — a crucial component of collagen production — and vitamin E, a nutrient that has antioxidant properties that protect the skin. Make sure you're using a ripe avocado for this lip mask for the best results.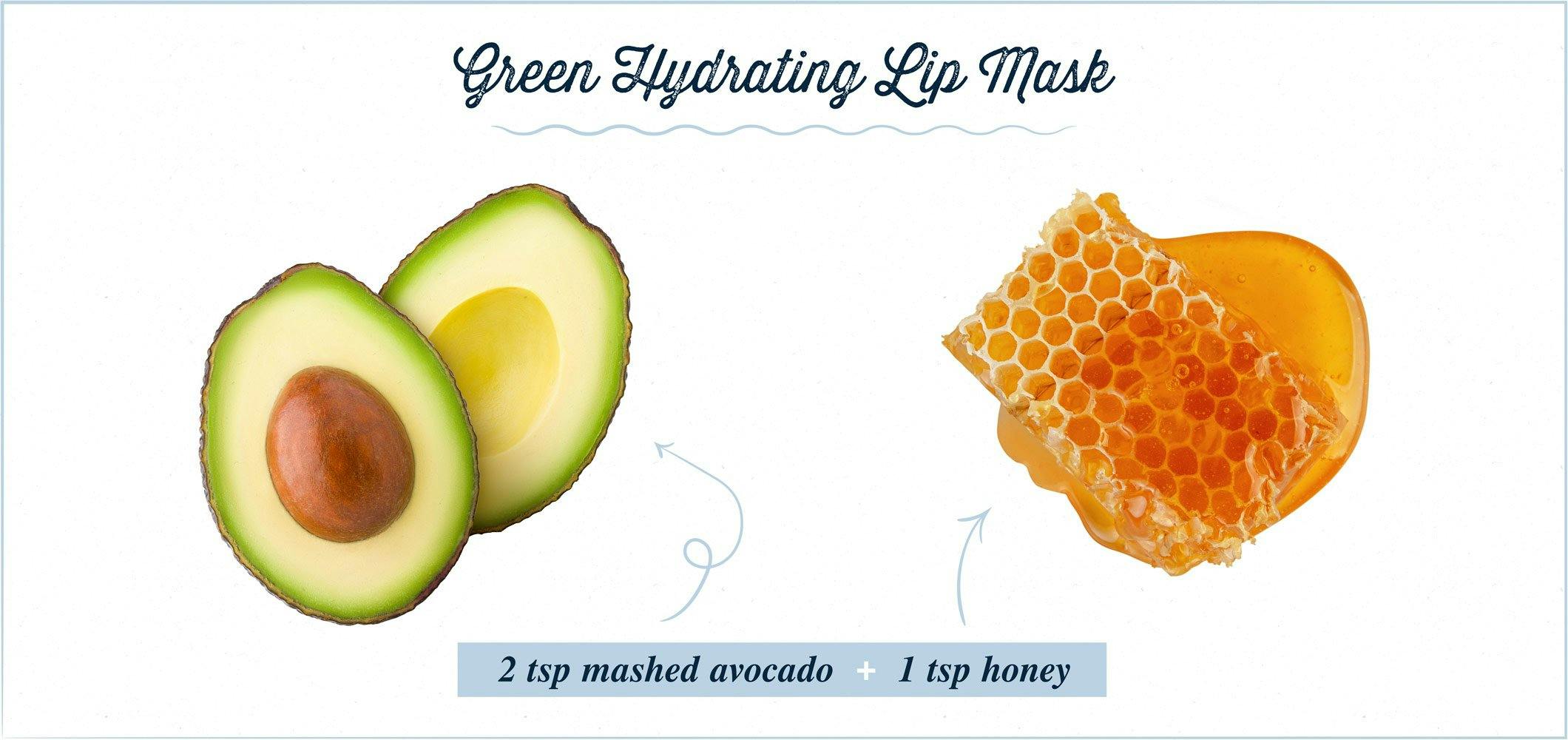 Ingredients:
2 teaspoons of mashed avocado
1 teaspoon of honey
Directions:
Mash up the avocado and put two teaspoons in a bowl.
Add honey and mix.
Apply to lips for 20 minutes for moisturized lips.
8. Sweeter Than Honey Lip Mask
If you suffer from chapped lips this mask will work wonders. The nutritious properties of strawberries are paired with the moisturizing effects of coconut oil and exfoliating benefits of honey for a soft and smooth pout in seconds.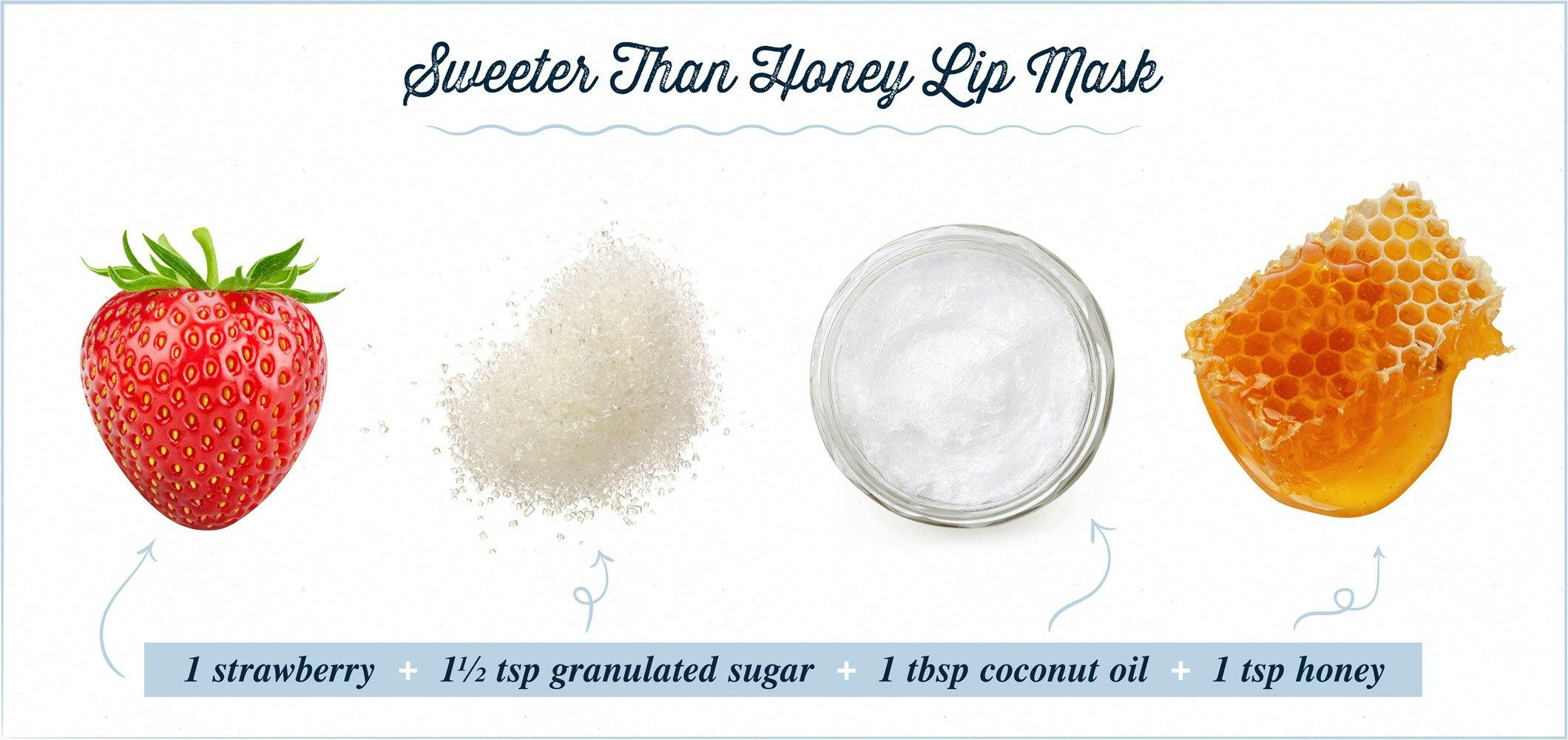 Ingredients:
1 strawberry
1 ½ teaspoons of granulated white sugar
1 tablespoon of coconut oil
1 teaspoon of honey
Directions:
Mix together the honey and coconut oil in a small bowl.
Mash the strawberry and mix it in.
Add the sugar and mix well.
Massage the mixture on your lips for a couple of minutes.
Wipe off the lip mask for soft lips!
9. Rose Petal Pout Lip Mask
This DIY lip mask will leave your lips silky and smooth. The star ingredient here is rose petals. Roses contain natural oils and sugars that trap moisture in the skin — leaving your pout soft and supple. They are also rich in vitamin C, making them a common ingredient in many beauty products. Yogurt is added to this recipe because it contains lactic acid, which can help with the removal of dead skin cells. Perfect for those who experience dry lips in the winter.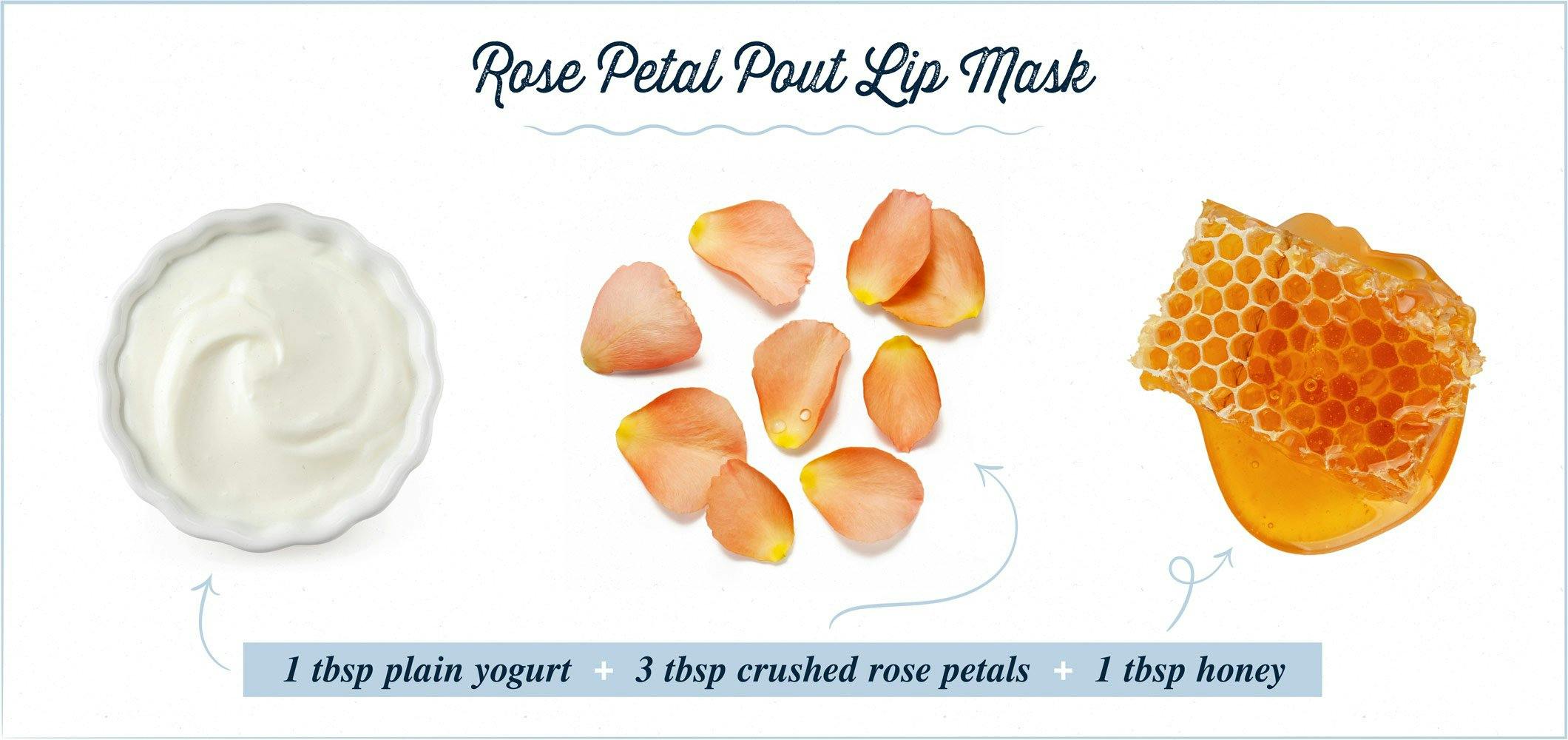 Ingredients:
3 tablespoons of crushed dried rose petals or rose petal powder
1 tablespoon of unsweetened, plain yogurt
1 tablespoon of honey
Directions:
Grind rose petals in a small blender or coffee grinder. Pick out any large petal pieces.
Mix yogurt, honey, and rose petals into a small bowl.
Apply the mask to your lips and leave on for 15–20 minutes for hydrated, plump lips.
Quick and Easy Overnight Lip Treatments
Let the mask work its magic overnight with these overnight lip treatments. They are quick, easy, and effective! These lip masks only contain one to two ingredients that you are bound to have in your pantry. Rest peacefully and wake up with plump, dewy lips in the morning.
10. Overnight Oil Lip Treatment
Coconut oil is a common household ingredient found in many beauty products because it can help protect the skin and keep it moist. It can even work its magic by itself. All you have to do is apply the oil to your lips. However, if you're looking for a longer lasting treatment with added benefits, try out the lip treatment below.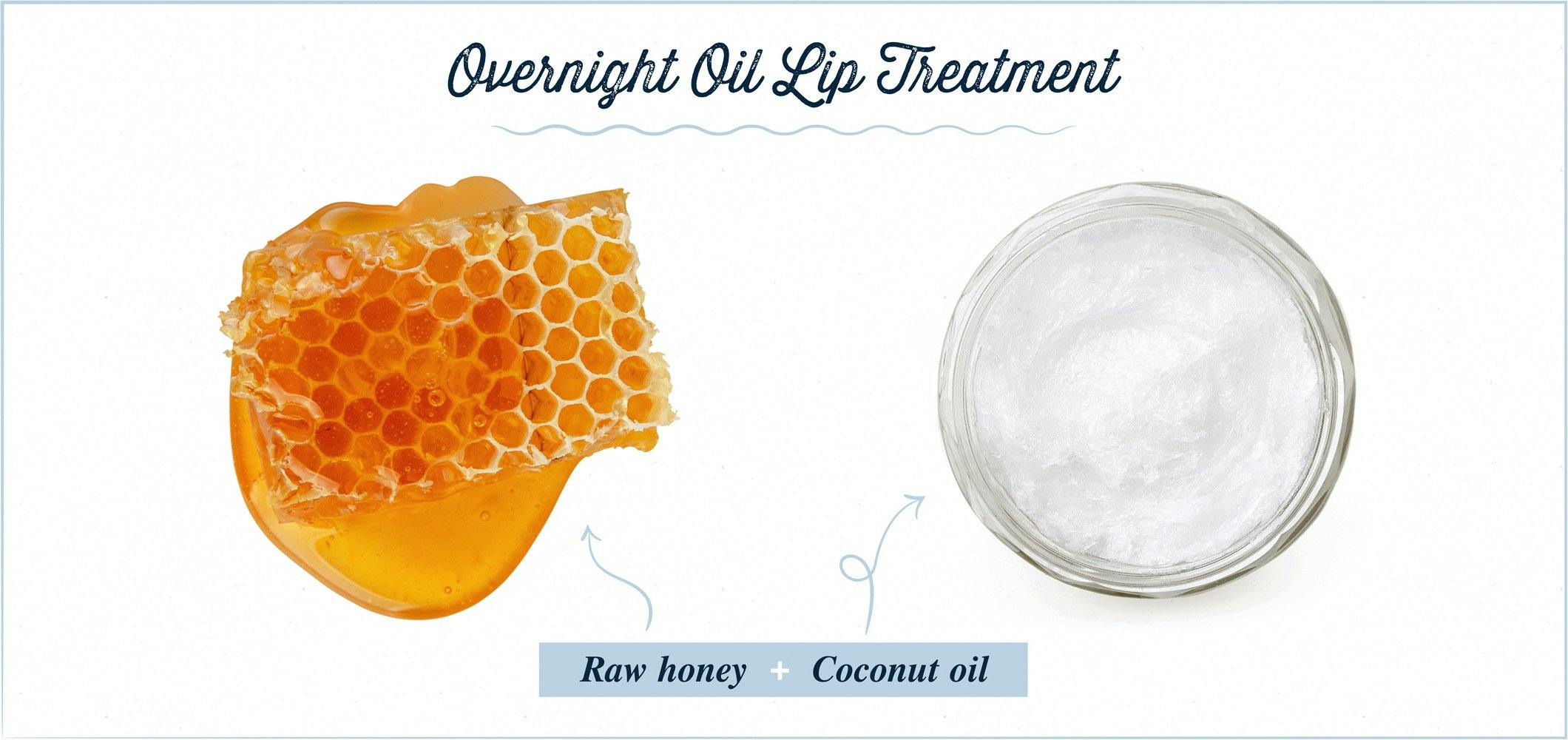 Ingredients:
Directions:
Mix together equal parts honey and coconut oil until it forms a thick consistency.
Apply to your lips before bed and wash off in the morning.
11. Soothing Aloe Lip Treatment
Aloe vera is best known for its treatment on sunburns, however it is less known for its effects on lips. Aloe vera is full of anti-inflammatory properties that fight inflammation and can create a cooling and soothing effect on chapped lips.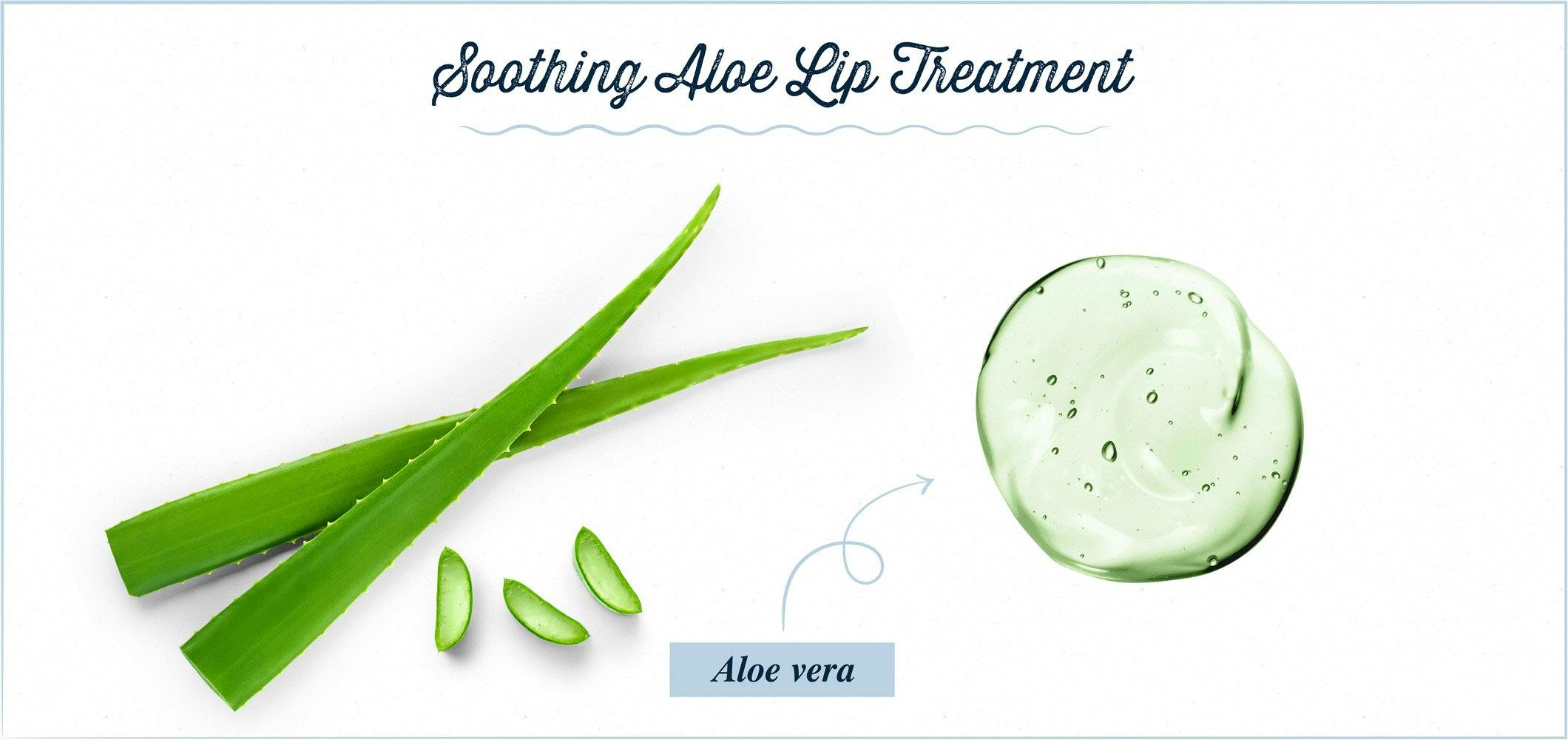 Ingredients:
Directions:
Before bed, apply a small amount of aloe vera to chapped lips.
Rinse it off in the morning and apply throughout the day as needed.
12. Buttery Pout Lip Treatment
While ghee is more commonly used in food, it's also a popular ingredient for skincare products! Ghee is full of healthy fats and fatty acids that can moisturize sensitive skin. The fatty acids also help fight dryness and irritation of the skin — making it perfect for chapped lips.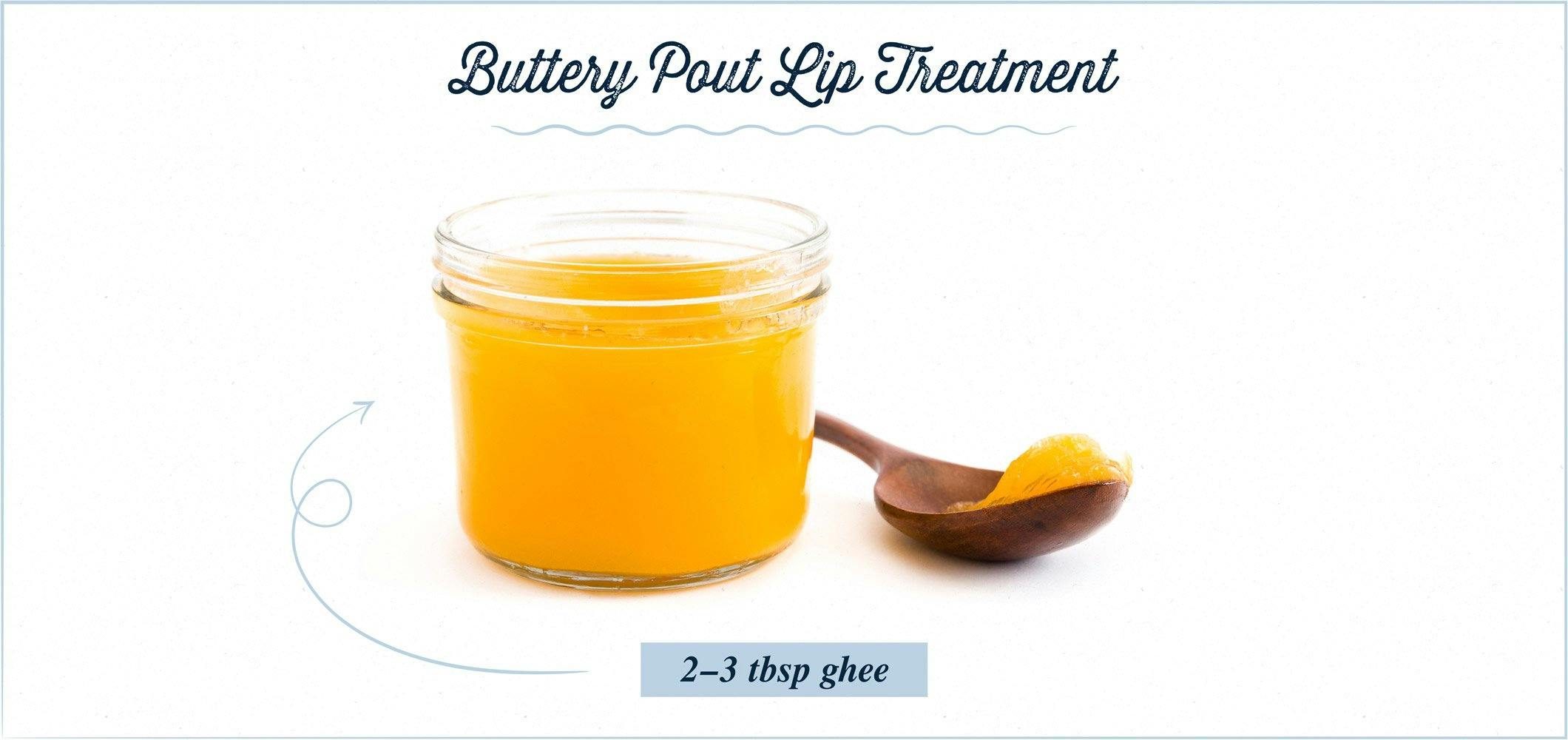 Ingredients:
Directions:
Put the ghee in a bowl and heat it up in the microwave.
Place the mixture in a small container and place in the refrigerator to cool for 30 minutes to an hour.
Once the ghee reaches the consistency of a standard lip balm, apply to your lips before bed.
Rinse your lips in the morning.
Self-Care Tips for a Brighter Smile
Keeping your smile healthy ties into holistic wellness. In order to stay on top of your self care, it's important to have a solid morning and evening routine.
On top of using the above masks weekly, below are a few self-care tips to start incorporating into your daily routine.
Avoid touching and licking your lips: Touching or licking already chapped lips may feel good in the moment, but these habits can actually make your lips dryer.
Stay hydrated during the day: Dehydration can dry out your lips. Make sure you're staying hydrated throughout the day by drinking lots of water — the recommended amount is 11–15 cups a day.
Eat hydrating foods: Wellness should be practiced from the inside out, and that includes the foods you consume. Prioritize hydrating foods that are good for your skin and teeth such as avocados, walnuts, and cucumber.
Prioritize oral wellness: Taking care of your lips means taking care of your mouth. Make sure to include oral hygiene in your self-care routine by brushing and flossing regularly.
Achieving a bright smile starts with oral care. We believe that when we feel good, we look good. If you aren't feeling your current smile, try out our teeth whitening products. Every smile is different, so we created products to meet everyone's needs.
For more tips on how to practice self care and beat dry lips this winter, check out our infographic below.