Our Blog
Are You at Risk for COVID Teeth or Cavities?
7/25/21
Back
Tell the truth: When was the last time you went to the dentist?
Was it before the pandemic, or maybe more recently? Or maybe it's something you've been avoiding? Because oral health is such a critical component of our overall health, we were curious to see how the pandemic has affected Americans' oral care routines and whether COVID teeth is an emerging trend.
To find out more about the state of America's teeth, we surveyed 1,000 men and women to get a snapshot of their oral care history, what they're most concerned about, and what their top priority is at their next dental appointment.
Key takeaways include:
53% of respondents delayed dental cleaning during the COVID-19 pandemic.
21% of respondents were not planning on visiting the dentist during the pandemic despite the recommended twice-per-year cleanings.
1 in 2 respondents did not do any at-home dental treatments during the pandemic.
44% of respondents said that teeth cleaning is their top priority when they are able to have their next dental appointment.
Read on to find out whether you could be at risk for COVID teeth and more about how COVID-19 has affected America's oral health.
Approximately 1 in 5 Americans Didn't Go to the Dentist Because They Were Afraid of Contracting COVID-19
Dentophobia, or the fear of going to the dentist, is a phobia that keeps many people from going to the dentist on a regular basis. Whether it's the sharp instruments used to clean plaque off the teeth or the discomfort of keeping your mouth open wide, fear of the dentist has been around for quite some time.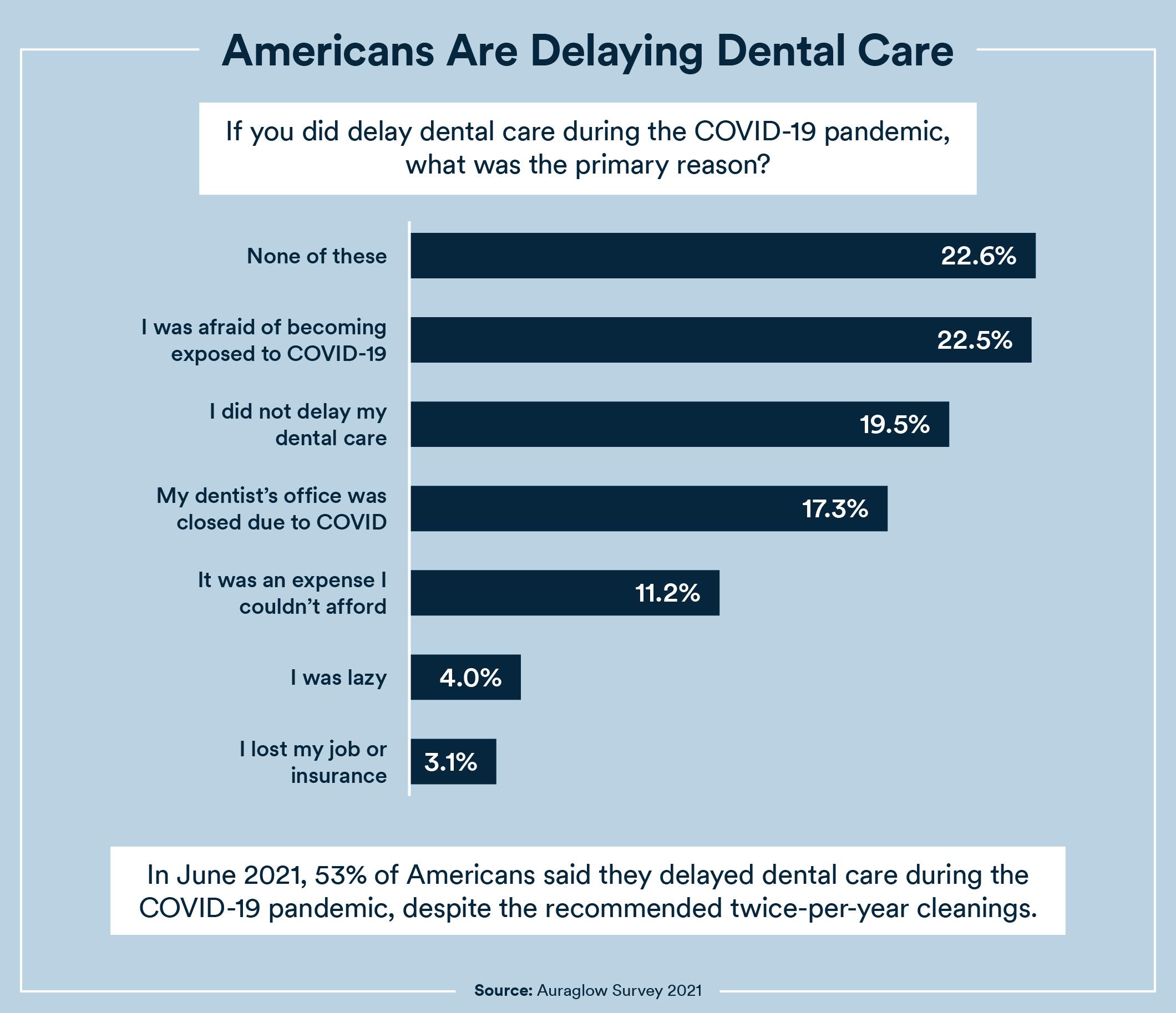 We found that 1 in 5 respondents cited COVID-19 as the primary reason they avoided a dental checkup during the pandemic. Women were more likely to delay dental treatment compared to men — 48% of male respondents delayed treatment during COVID-19 while 57% of women did. When it came to age, 67% of millennials reported that they delayed dental care during the pandemic, whereas 47% of Gen Z respondents did.
As COVID-19 altered nearly every aspect of our lives over the past 15 months, the pandemic also directly impacted how we care for our teeth. With more of us spending extended periods of time at home, the American Association of Endodontists (AAE) decided to take a closer look at how Americans were (or weren't) taking care of their teeth during the pandemic.
The AAE ran a study in February 2021 that found the pandemic has taken its toll on the oral routines of those working and studying from home. The survey found that not only were 1 in 4 Americans waiting until later in the morning to brush their teeth, 31% were snacking more on sweets. Not brushing and an increase in sugary foods is a recipe for cavity formation that, left unchecked, can escalate into more serious stages of tooth decay.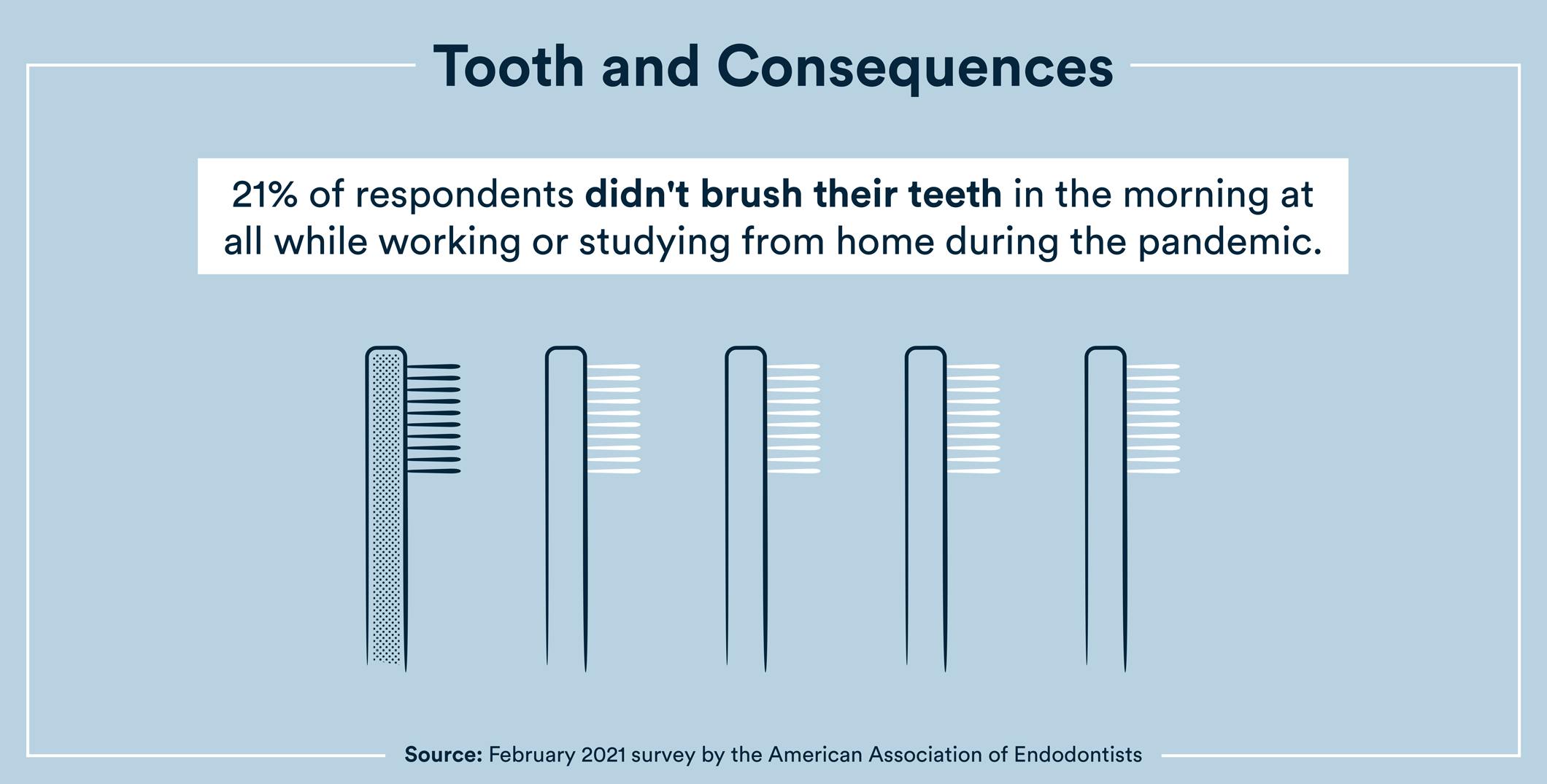 The survey also found that:
21% of respondents didn't brush in the morning at all.
24% of respondents reported they're flossing less frequently, while 23% said they aren't flossing at all.
This snapshot of the state of America's oral health paints a concerning picture. As fewer Americans take care of their teeth by regularly brushing, flossing, and going to the dentist for professional cleanings, they increase the chances of tooth decay that can lead to even more serious (and costly) dental problems down the road.
Here's How Safe Dental Offices Were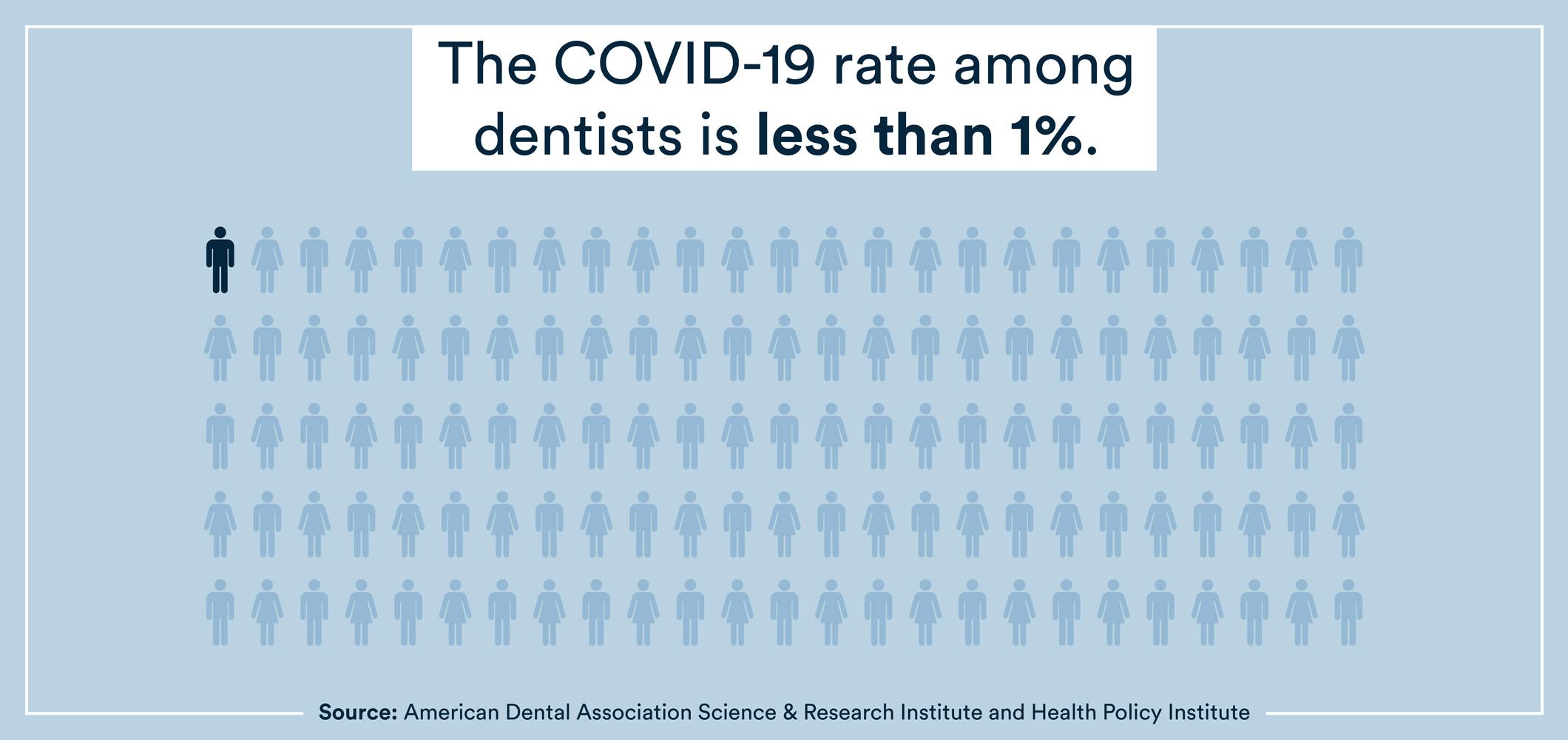 While it's easy to understand why someone would be wary of teeth cleaning during the pandemic, the truth is that COVID-19 transmission rates were less than 1% among dentists during the pandemic. The American Dental Association Science & Research Institute and Health Policy Institute conducted a survey asking 2,195 dentists if they had contracted COVID-19. Only 20 responded saying they had a confirmed or probable COVID-19 infection.
That data may sound surprising to those who don't work in a dental office, but the reality is that dental offices had put into place extensive sanitation and health protection policies for their staff and patients well before COVID-19 entered the scene. Many dental professionals were already wearing masks as they worked on patients' teeth, and offices follow strict sanitation procedures to ensure instruments are thoroughly clean before being used on a patient.
If anything, the COVID-19 pandemic only increased these precautions, making the dental office an even safer place for staff and patients alike. Many offices have kept their waiting rooms closed to eliminate patient-to-patient transmission.
The American Dental Association (ADA) also sent out updated pandemic guidelines, urging dental offices to use the highest level of personal protective equipment available and minimize aerosols by using rubber dams and high-velocity suction when possible.
1 in 2 Respondents Did Not Do Any At-Home Dental Treatments During the Pandemic
With many Americans admitting to delaying dental treatment during the pandemic, we also asked them if they had taken care of their teeth in any other ways at home through at-home dental care. In the survey, we defined this as teeth whitening such as whitening strips and pens, plaque removal, and invisible aligners such as Byte or Invisalign.
Half of respondents said they did not do any at-home dental treatments during the pandemic. But for those that did, cosmetic appearance was one of the top reasons for spending time and money on at-home treatments.
As more and more of us turn to technology to connect, whether it's for school or work, it puts the spotlight on our physical appearance on camera. It's hard not to notice our own faces when they are up close and personal on-screen during Zoom meetings, which can at times highlight our insecurities or unhappiness with our appearance.
When it comes to teeth appearance, 11.4% of survey respondents said they did at-home teeth whitening during the pandemic. We also found that 19% of Gen Z respondents (those 18-24 years old) said they did at-home teeth whitening during the pandemic, which was more than any other age group we surveyed.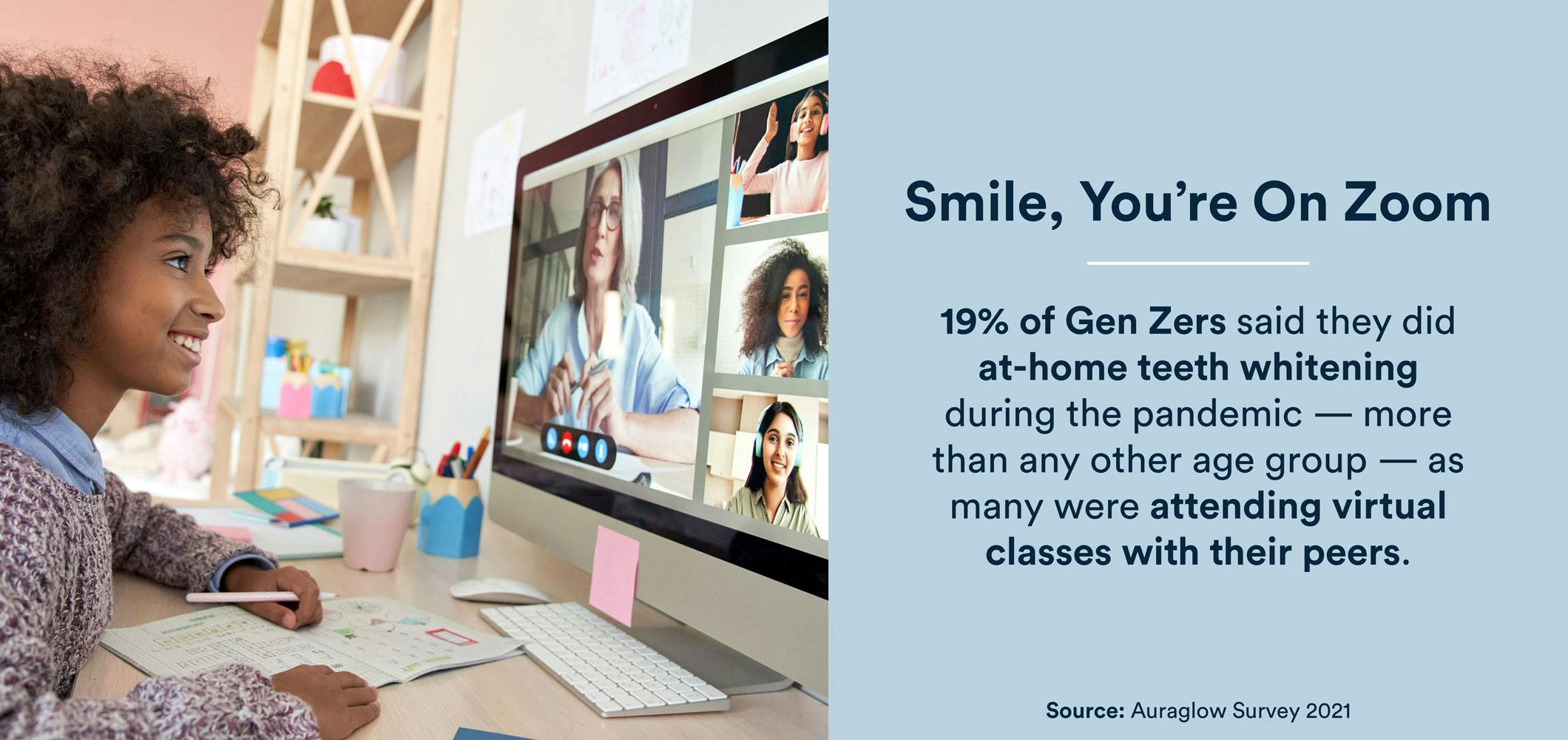 26.4% of Dentists Reported an Increase of Caries or Cavities Compared to Pre-Pandemic Cases
There's a reason why your dentist asks to see you back in the office for a teeth cleaning every six months. Even if you're diligent about brushing your teeth for the recommended two minutes twice a day and flossing regularly, the plaque you aren't able to clean off by brushing and flossing hardens into tartar.
Professional cleanings are the best way to remove tartar. Your dental hygienist uses a tool called a scalar to gently scrape off this yellow or brownish substance. If left unchecked, tartar buildup can lead to tooth decay and gum disease. By seeing your dentist on a regular basis, they are better able to identify any oral health issues you have — like the beginnings of a cavity — to formulate a treatment plan and prevent further problems.
With fewer Americans able to see their dentist, it makes sense that oral health problems would be on the rise. The American Dental Association released a survey in September 2020 asking dentists about the prevalence of common oral health issues among patients. Dentists surveyed reported a 26.4% increase of cavities in patients compared to pre-pandemic cases.
The survey also found that stress-related oral concerns were on the rise. Perhaps unsurprisingly, COVID-19 has brought with it a fresh wave of anxiety for many Americans. This translates into our oral health in the form of teeth grinding, or bruxism, a common stress-related oral health concern.
The ADA released a newer survey in March 2021 that found an increase from the survey conducted in the fall of 2020 in stress-related cases. More than 70% of dentists reported seeing an increase of patients experiencing teeth grinding and clenching, up from the just under 60% of dentists that had seen an increase in September 2020.
Prolonged teeth grinding and clenching can lead to a slew of oral health problems including cracked teeth, tooth and jaw pain, and headaches. While some may notice teeth clenching during the day, teeth grinding most commonly occurs during sleep. You may notice symptoms of teeth grinding if you wake up with jaw or neck pain, or notice your teeth are flattening or loosening.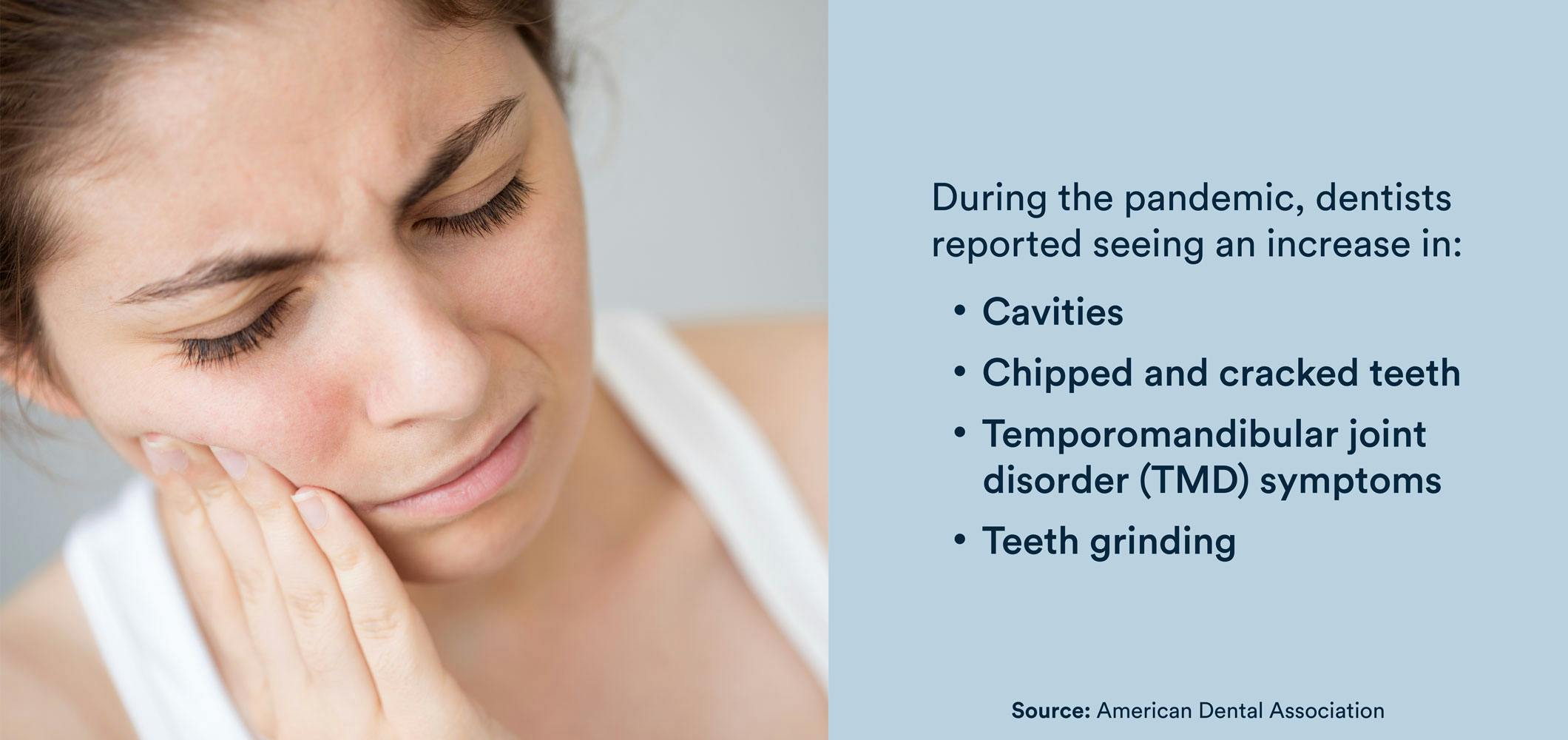 Another COVID-19 byproduct is mask mouth. Some of the reasons for this include dehydration as people tend to drink less water while wearing a mask, disrupted breathing patterns that can lead to less saliva production, and breathing recycled air. These factors contribute to mask mouth in the form of bad breath, tooth decay, and even gum disease.
44% of Respondents Said That Teeth Cleaning Is a Top Priority at Their Next Dental Appointment
As states lift restrictions and Americans are able to return to parts of life that were put on hold by the pandemic, oral care concerns are becoming a top priority for many. We asked respondents what their top priorities are when they are able to get back in the dental chair, and 44% said that teeth cleaning is their main focus.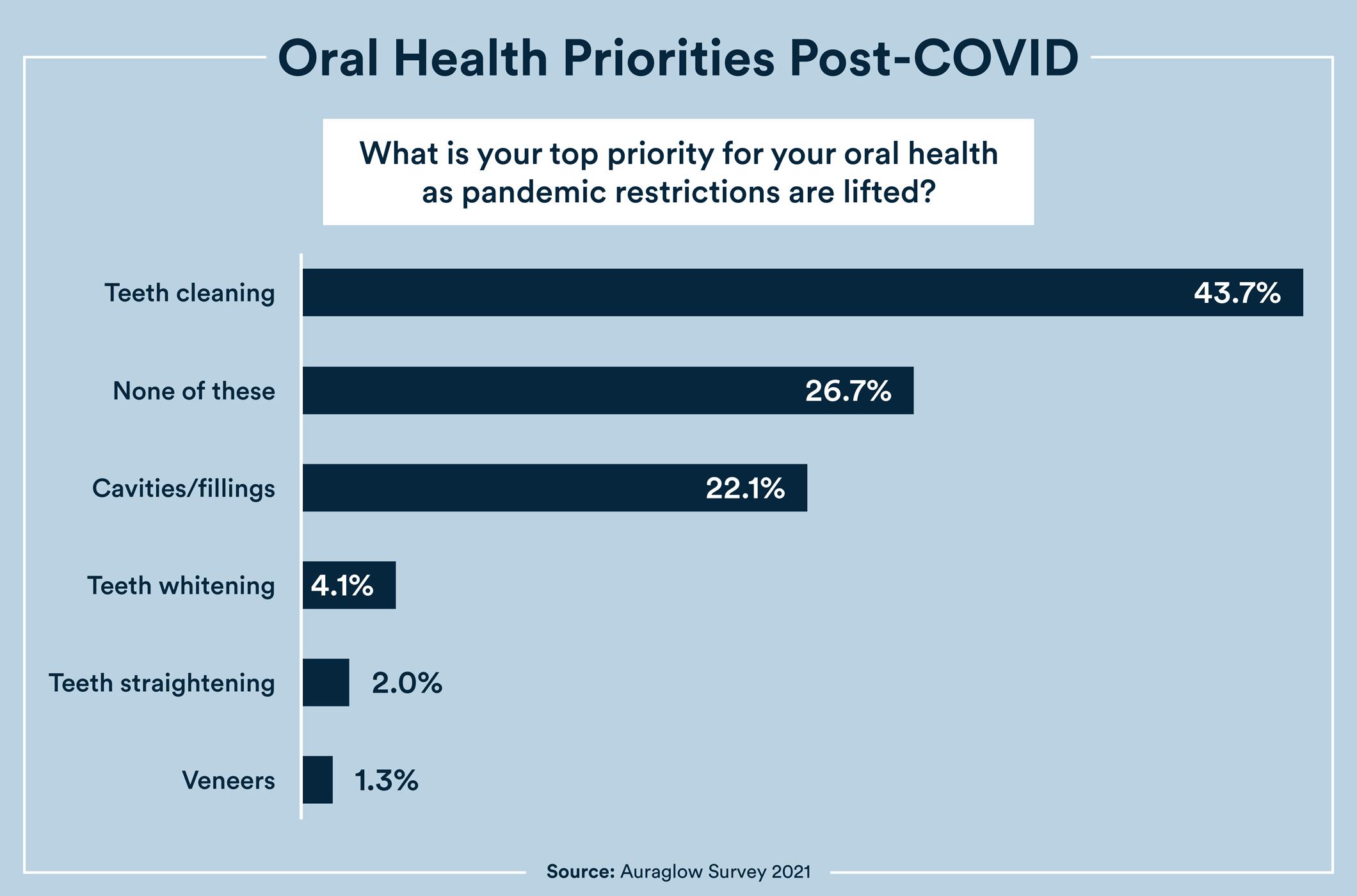 Summary
The pandemic has put many things on hold and exacerbated stress and anxiety that comes with the unknown. Fear led more Americans to skip their dental appointments, whether that was a choice they made on their own or one made for them as many dental offices closed during the beginning of the pandemic.
The effects of not going to the dentist, less focus on a regular oral care routine, and stress manifesting itself in the form of teeth grinding and clenching created the perfect storm for declining oral health and the rise of COVID teeth among Americans.
Now that pandemic restrictions are lifting around the U.S., be sure to schedule an appointment with your dentist to make sure your teeth and gums are in good health so you can put your best smile forward.

Methodology: This study was conducted for Auraglow using Google Consumer Surveys. The sample consisted of no less than 1,000 completed responses per question. Post-stratification weighting has been applied to ensure an accurate and reliable representation of the total population. This survey was conducted in June 2021.